"That push over the last few years to buy local has really saved us all and we just need it again this year because I think a lot of people are in a bit of trouble."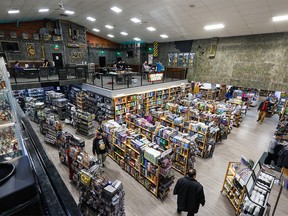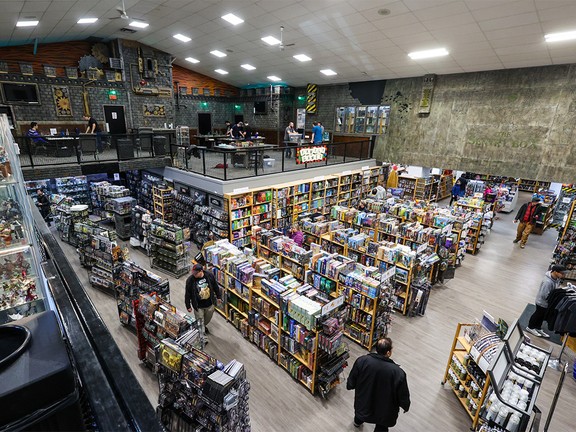 Article content
After two and a half years of pandemic and restrictions, Calgary retailers are welcoming a return to normalcy as local shoppers prepare for Santa coming down the chimney.
Article content
The question for shop owners is just how merry the season will be.
Article content
Lindsay Saunders, owner of Cinder and Sage, said she has seen a drop in sales this year, including 25 percent for November, compared to 2020 and 2021 when there was a hyper-local focus among shoppers.
"That push from the last couple of years to buy local has really saved us all and we just need it again this year because I think a lot of people are in a bit of trouble," she said.
Article content
Cinder and Sage sell Saunders' line of jewelry as well as many other items mostly sourced from Alberta.
The store actually spent the first few years of its existence only as an e-commerce business, but finally opened a brick-and-mortar location about five years ago. This foundation set them up well for the pandemic as retailers faced closures and restrictions on face-to-face sales. While many were forced to pivot, in some cases they helped other stores to operate online.
Article content
They are also faced with economic forces that are causing some shoppers to be more cautious in their spending.
According to Deloitte's 2022 Holiday Retail Outlook, a looming recession fueled by high inflation and rising interest rates is a concern for many Canadians. Marty Weintraub, their national retail leader, said from his conversations with retailers there is caution and concern about the holiday season tied to Canadians' willingness to spend.
Article content
"It's not necessarily that the money isn't there, it's the propensity to let it go," he said. "I still believe we're going to have a tougher holiday season because the messaging from the banks has actually gotten a little bit worse since we did our research in September."
Article content
He added that the expansion and emphasis on Black Friday sales also continues to take some of the shine off Boxing Day sales, with only one-third of Canadians planning to shop after Christmas this year. He said that the percentage drops by about one or two percent every year.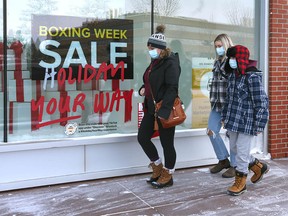 While supply chain issues have been a challenge in all sectors, Weintraub said in retail it is starting to return to normal. In some cases, there are problems where businesses have excess inventory due to the unreliability of the supply chain. Where there is difficulty in finding certain items, especially in electronics, this is countered by the availability of options, as long as people are willing to look at other brands.
The holidays are the time to shine for toy stores and this is where they can often make or break the year. The Discovery Hut was forced to take some big steps to stay operational during COVID, including opening a store in CrossIron Mills so they could serve people who would otherwise be cut out due to capacity constraints. Second place was successful enough that it's not going anywhere.
Article content
Most important to co-owner Randy Shapiro is a return to normal shopping patterns.
"It really is of crucial importance to us," he said. "We do provide entertainment in the store and most of our customers are people who shop in the store. So when we have capacity constraints or we have to rely on Internet sales, that means a really lean year for us. And that's putting it mildly."
According to manager James Brewer, one of the big trends is the sale of board games because of the social aspect of people getting together more this Christmas.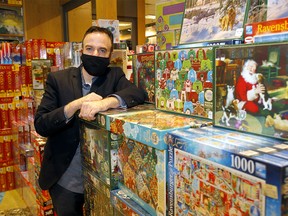 The Sentry Box, which has been selling board games and miniatures in Calgary for 49 years and is one of the largest board game stores in Canada, is seeing record sales this month – without any Black Friday promotions.
Article content
Owner Gordon Johansen said sales were up about 15 percent from their previous best November. He wasn't ready to acknowledge their social nature, as many families leaned toward sitting around the table and breaking out a game during the pandemic. He looks at their affordability in these times of tight budgets.
"Starhorse shops and bars always do well in any kind of slowdown in the economy," Johansen said. "You can't go out and buy a new computer, a new car, fancy TV or whatever, but you can pay $50 to $80 and get a game that's going to keep five people entertained, entertain six people multiple times, that is still a good deal. Games are cheap compared to most other things."
Johansen said online sales make up a very small portion of their sales as they have over 7,000 titles available and it's much easier to come in and browse.
Article content
A muted Black Friday for Canadians amid inflation, online shopping and longer deals

Businesses are seeking balance between online and in-person engagement after the pandemic

Why handing out cash to help people manage inflation only makes it worse

Chamber says Calgary needs a rebrand to attract workers and reflect diversity
The Retail Council of Canada published its holiday outlook a few weeks ago. It showed spending expected to be slightly lower this year, with Albertans planning to spend about $856 this season, down from $869 last year.
RCC national spokeswoman Michelle Wasylyshen said 35 percent of people plan to start shopping in November, with 28 percent planning to hit the stores on Black Friday and 21 percent scouring the internet for deals on Cyber ​​Monday.
She said there was reason to be optimistic with people planning to spend more on food, drink and clothing.
"It's indicative of more parties, more opportunities to look nice, more face-to-face gatherings, more family gatherings, those kinds of things," she said. "We know that consumers are going to watch their money, they're going to stretch their dollar as far as they can go, but that they do want to shop, they want to celebrate."
jaldrich@postmedia.com
Twitter: @JoshAldrich03