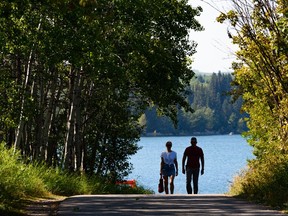 Article content
A pilot project launched by the city this summer, in which vendors sold their wares in Calgary parks, was deemed "unsuccessful" by city administration.
Article content
In a briefing tabled at the community development committee on Thursday, the administration said that the pop-up project, which ran from July 1 to September 25 this year, did not see the expected uptake or result in vendors making money.
Article content
Parks created 24 spaces available over 13 weekends, for a total of 312 spaces. Only 18 vendors took advantage of the spaces over the summer, and in the end, only 44 of the 312 spots were booked, meaning 86 percent of the available spaces were never used.
The report said of the 18 who booked a space, only 4 recouped the $65 rental fee through sales revenue.
The city has created six spaces at parks in each of the four quadrants, including South Glenmore Park, Shouldice Park, Prairie Winds Park and Valley View Park.
Article content
Shovel. Kourtney Penner said despite the failure, she's glad they gave it a shot, and lessons were learned in the process.
She said there are barriers to entry, such as requiring sellers to have insurance. She also thinks the event could have been better advertised.
"I think without people expecting something to be there — without the marketing push and campaign behind it — people felt like they didn't know something was going to pop up," Penner said. "Or because maybe it was a different vendor every weekend, you know, there wasn't predictability and certainty."
Penner felt that the ever-changing nature of the vendors may have been a deterrent to prospective buyers. She said there may have been better approaches, such as partnering with already established markets.
Article content
"It was an approach where we asked sellers to come individually versus, let's say, approaching an established market to come and settle in a designated area," Penner said.
The city collected feedback from both vendors and park users. The sellers said the locations were not ideal. One seller quoted in the report said that they would normally earn $1,500 on a regular market, and instead only earn $25.
Some park users said they would prefer to see park spaces kept less commercial, with one complaining about the noise of a generator.
The city briefing notes that it has a successful seasonal vendor program in parks, which has been running for six years. Vendors include equipment and game rentals, food services such as hot dog and ice cream trucks, and dog wash stations.
brthomas@postmedia.com
Twitter: @brodie_thomas