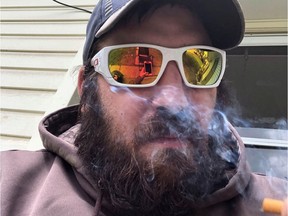 Article content
Murder suspect Anthony Karl Kurucz's father told police his son has the intellect of a 12-year-old and doesn't know right from wrong, the court heard on Friday.
Article content
But the file manager of a so-called Mr.
Article content
The officer, who cannot be identified, said police were aware of "anecdotal" information about Kurucz's intelligence and conducted cognitive tests during their investigation into the man's death of his three-month-old son.
"We are mindful of the fact that this is an important issue," the witness told defense attorney Darren Mahoney.
Kurucz is charged with second-degree murder in the April 27, 2018, death of his son, Jayden Cyluck-Kurucz, who died at the hospital from head injuries two days after the defendant called 911 to say his son wasn't breathing.
Article content
The file manager told Mahoney they conducted field tests to ensure Kurucz was capable of performing complex tasks and he successfully completed them.
"Are you aware of his reported IQ?" Mahoney asked about intelligence quotient testing done on his client.
"I haven't seen any information in anything I've received that has IQ reports," the officer said.
"Would you be surprised that he has an IQ between 65 and 75 based on your extensive experience with him?" said the lawyer.
"I don't know how IQ scores work, so I wouldn't be able to comment on that… I don't know what that scale would mean."
Mahoney disputes the admissibility of statements made by Kurucz during the covert Mr.
Article content
Undercover officer had to steer murder suspect away from discussing his dead son

The father of the dying child appeared 'more concerned with his mobile phone' than his son, the court was told
The file manager said he had spoken with the well-known psychologist dr. Patrick Baillie to determine how to assess Kurucz's intellectual capacity.
"What we (talked about) with Dr. Baillie was how to assess cognitive ability and intelligence level," he said.
"Mr. Kurucz, who was reported to me, was successful in all of those tests. More than successful in almost all of those tests," he said.
The witness said those field tests were necessary because it could not do standardized tests on the accused.
"There is no way to use an IQ test (during an undercover operation)," he said.
"The assignment of Dr. Baillie was to carry out all the tests I have already spoken of."
Evidence of the Mr. Big operation continues.
KMartin@postmedia.com
On Twitter: @KMartinCourts