The murder suspect said his memory was "refreshed by hearing other evidence".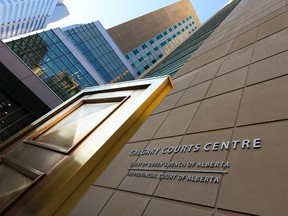 Article content
Murder suspect John Edward Tabler admitted Tuesday there were discrepancies between his police statement and his testimony before a Calgary jury.
Article content
But Tabler insisted that one consistent element remains true in both.
Article content
"It was an accident," Tabler said of what he told police and what he told jurors.
Crown prosecutor Tiffany Dwyer grilled Tabler about a statement he made to Det. Mike Shute after his arrest on March 29, 2021 and his testimony in court this week.
Dwyer noted that the account Tabler gave to the investigator contradicted his testimony, when he said he was adjusting a gun provided to him by co-defendant Martin Wallace Yuen when it accidentally discharged is.
The single bullet struck Calgarian Jesse George in the neck, killing him almost instantly as he fell in the middle of Memorial Drive SE.
Tabler is charged with second-degree murder in the death of George on March 27, 2021, while Yuen is on trial for manslaughter.
Article content
In his statement to Shute, during which Tabler said he was tired and "sick as hell," he said Officer Yuen threw the gun at him as they chased George out of their home and the gun immediately fired.
Calgary police officer spared criminal record for assaulting handcuffed drunk man

'It was an accident': Man fatally shot in dispute over puppies, court told
But in testimony Monday, Tabler said Yuen handed him the gun inside their home at 5227 Memorial Drive SE while he was trying to get George outside.
After the unwanted guest was forced out, George kicked open the door before he and Yuen walked outside, the former to retrieve his two escaped pit bulls.
Tabler said he followed the two men down a wheelchair ramp that ran from the sidewalk to their front door. When he was about halfway down, he moved the gun to lift it over the rail so it would aim at the ground.
Article content
At that moment, the gun went off and hit George, he said.
Dwyer said that account differed significantly from his story to Shute.
"There were some things that were about timing," the defendant said.
"The very important thing is that I never tried to tell them I didn't have the gun in my hand."
Tabler said his memory is better today than it was when he spoke with Shute.
"It's refreshing to hear other evidence," he said.
And he told defense barrister Andrea Urquhart that he was not tired or "work-sick" when he gave his evidence in front of jurors.
Yuen's attorney, Rebecca Snukal, told the court she would not call evidence on her client's behalf.
Jurors will hear closing arguments in the case on Thursday.
KMartin@postmedia.com
Twitter: @KMartinCourts