Mayor Jyoti Gondek suggested Thursday that, unlike her Edmonton counterpart, she is in the loop about the provincial announcement.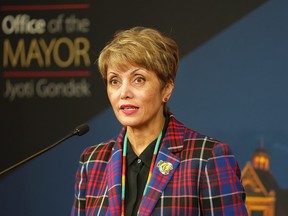 Article content
The provincial government is expected to announce a task force on Friday that will look at addressing social disorder in Calgary.
Article content
Minister of Mental Health and Addiction Nicholas Milliken, Minister of Seniors, Community and Social Services Jeremy Nixon and Minister of Municipal Affairs Rebecca Schulz are expected to announce the next provincial steps to address addictions, homelessness and public safety in the city on Friday morning, a media release said Friday afternoon.
Article content
The task force members are expected to include municipal and indigenous leaders, ministers and police and fire brigade representatives. There were no further details on who would make up the task force outlined in the Thursday notice.
Speaking to Postmedia earlier in the day, Calgary Police Chief Mark Neufeld said he was aware of the task force and that CPS was involved. He said the issues being tackled require members from various levels of government and various sectors of society to come together and cooperate with each other.
Article content
"I think there's a need for us to have a very strong approach where we lead with services and yet the police are involved for some situations," Neufeld said.
Mayor Jyoti Gondek suggested Thursday that, unlike her Edmonton counterpart, she is in the loop about the provincial announcement.
Edmonton Mayor Amarjeet Sohi expressed concern Tuesday when the province announced a similar task force in the capital.
Sohi was not part of the announcement, but the province handpicked two city councilors to sit on the task force.
"I was not made aware of that," Sohi said on Tuesday. "We were not included in the creation of the task force in any way. It is a decision that the province has made."
Article content
When asked Thursday morning about an announcement planned for Friday, Gondek remained tight-lipped about what might happen in Calgary. She said the city is still eager to understand how funding for homelessness and addictions promised by outgoing Premier Jason Kenney in October will be distributed.
But the mayor also suggested she wasn't completely in the dark about a Friday announcement.
"There are things that are discussed between provinces and municipalities and sometimes the federal government that have to be confidential for a period of time, and when we can talk about things like that, we do," Gondek said.
Earlier this week, after the Edmonton announcement was made, Gondek said she was open to hearing what the province proposed.
Article content
"If it requires a task force or a committee or whatever it is, that's the prerogative of the provincial government because it's their funds," the mayor said.
Kenney's October announcement included a $187 million commitment to address homelessness and addiction in urban centers.
The Tuesday announcement for Edmonton included $63 million over two years to increase access to addiction services and supports, and $19 million to address homelessness from that pot of money.
In Edmonton, Sohi raised several concerns about the provincial task force for his city, including the fact that it does not include measures to ensure safe supply and harm reduction.
He also said the task force lacked people with "lived experience," including ethnic Edmontonians and urban Indigenous leaders.
Edmonton's task force does include Chief Billy Morin of the Enoch Cree Nation, and Chief Isaac A. Laboucan-Avirom of the Woodland Cree First Nation. It also includes provincial cabinet ministers Nicholas Milliken, Mike Ellis, Jeremy Nixon and Rebecca Schulz.
Edmonton's police chief was also appointed to the task force.
— With files from Dylan Short
brthomas@postmedia.com
Twitter: @brodie_thomas