Rooke said Akpan's decision to notarize the document provided to her by Ayyazi could seriously endanger law enforcement and other officials.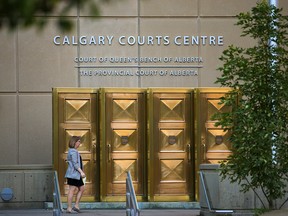 Article content
The Calgary lawyer who a "pseudolaw" document purporting to quash a warrant for the arrest of a suspected cocaine dealer provided him with a "license to kill," a Calgary judge has ruled said.
Article content
In a written judgment posted online, former Associate Chief Justice John Rooke, who officially retired last Friday, ordered lawyer Grace Akpan to pay $10,000 for violating the rules of the profession.
Article content
Rooke said Akpan's decision to notarize the document provided to her by Ali Mohamed Ayyazi could seriously endanger law enforcement and other officials.
"Truly put, the document that Ms. Akpan witnessed and empowered is a form of 'license to kill,'" Rooke said.
"And make no mistake, pseudolaw's believers often point to documents like Ms. Akpan endorsed and empowered, and kill or try to kill based on them."
Rooke cited a US study where the author identified 74 incidents of violence by "pseudo actors" against law enforcement "resulting in the death of 27 officers and the wounding of 65 officers."
Article content
The King's Bench judge said Ayyazi, who is still wanted on drug charges, could believe that the document he had notarized by Akpan now gave him the right to defend himself against what he would consider an illegal arrest. regard.
"So that's the bottom line. What Ms. Akpan did put her fellow Canadians in physical danger, especially crown staff, judges, court staff, but most likely of all, law enforcement.
"I certainly hope that nothing of that sort occurs, but nevertheless, what we do know is that Mr. Ayyazi may now falsely believe that he has illusory rights, and one of those rights may be to engage in violence when – from his perspective – he is being interfered with."
And Rooke said Ayyazi clearly does not have that right.
Article content
"If this decision under Mr. Coming to Ayyazi's attention, I emphasize that he has no such extraordinary rights, and that he should instead immediately retain a legally certified and licensed attorney, and listen carefully to what that attorney tells him."
In a June ruling, Rooke said Akpan had broken professional rules by approving clearly illegal documents and gave her an opportunity to defend her actions.
Akpan responded by saying that she was not acting in her capacity as a lawyer when she notarized the document, and as a notary was merely bound to ensure that the person signing the document was the named individual.
But Rooke said she was wrong and as a member of the Law Society of Alberta she was obligated to ensure anything she notarized was legal.
"I hope ma'am. Akpan thinks very carefully about what she did. If pseudolaw and its attendant illegal and criminal conduct were a vast unknown, I might be sympathetic to a claim that her actions were, at worst, ill-informed. But in Alberta, this court has been pointing out and rejecting pseudo-law for decades," he said.
KMartin@postmedia.com
On Twitter: @KMartinCourts