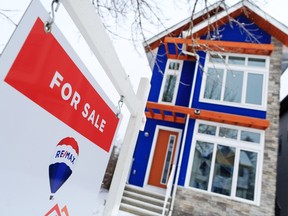 Article content
Residential real estate had a slower-than-normal November, but Calgary remains on track for a record year due to a red-hot first six months of 2022.
Article content
On a year-over-year basis for November, total home sales fell 21.82 percent to 1,648 units, along with a 21.84 percent sales volume decline to $807.74 million year-to-date. However, sales are still up 9.71 percent with volumes up 15.07 percent to $14.74 billion.
Article content
The challenge ahead is that those sales were not offset by new listings as inventory fell 28.69 percent to 1.67 months' supply, the lowest since pre-2005.
Article content
"Given the context of what we're seeing in other markets, we're still seeing an exceptionally strong level," said Ann-Marie Lurie, chief economist of the Calgary Real Estate Board. "We just didn't see those listings coming, inventory levels continue to weaken, even for this time of year. They usually slow down in November and December, but relative to what we traditionally have in the market, it's much less and it keeps conditions relatively tight."
Article content
The benchmark price continues to rise, up 8.56 percent year-to-date to $520,200 and 12.87 percent year-to-date to $530,273. That does mean prices have also fallen from their peak levels this spring, but are still higher than it was 12 months ago.
Condo resales set new highs as single-family home sales decline

Calgary Real Estate sets April record for sales
To keep the market strong, the influx of newcomers to the city is mixed with the lack of supply. This has helped buoy real estate prices in Calgary in the face of rising interest rates that have hammered prices in other major centers such as Toronto and Vancouver.
Article content
Detached houses have the biggest impact on overall numbers. Sales of such homes fell 34.3 percent year-over-year to 818 in November, but benchmark prices rose 10.6 percent to $619,700. Year-to-date, sales fell 5.3 percent to 15,181 , while benchmark prices rose 14.91 percent to $630,236.
Article content
Apartment sales exploded while other segments lagged behind. Year-over-year, sales are up 34.94 percent and benchmark prices are also up 9.96 percent to $277,000. The price is trending up overall, with a year-to-date benchmark of $271,718 with sales reaching 51 ,11 percent rose to 5,910 units.
This growth is welcome news for investors, but prices still remain about 10 percent below previous highs from 2014. Meanwhile, inventory levels are at their lowest point since November 2013.
"We hear a lot more investors are coming back to the market because the rental markets are getting a lot tighter," Lurie said. "It's also more affordable. So we are seeing strong growth in demand and I don't see that changing in the near term."
Article content
The oil and gas sector also contributes to a strong market, supporting the provincial economy as the rest of Canada heads into recession in early 2023, driven by inflation and rising interest rates to counter it.
Re/Max released its 2023 Canadian Housing Market Outlook earlier this week, predicting a seven per cent increase in the average sales price next year in Calgary, along with 12 per cent growth in sales. The report estimates a 3.3 percent decline nationally in the price of homes, including a five percent drop in Vancouver and 11.8 percent in Toronto.
Lurie could not comment specifically on this report and could not say there will be a significant jump in sales next year, but she added that prices should remain strong.
"I think some of it will depend on what happens in terms of supply," she said. "I don't expect you'll see the same level of adjustment that you might see in some other markets and that's because our economy is generally doing better. We're still seeing sales activity, even with the downturns we've seen recently with slower sales, which is still better than before the pandemic. "
jaldrich@postmedia.com
Twitter: @JoshAldrich03