Article content
In nearly three decades of helping the most vulnerable Calgarians, Carlene Donnelly thought she had seen it all when in 2020 a global pandemic killed millions around the world and disrupted every facet of our daily lives.
Article content
The next two years will bring even greater challenges for her and her team at CUPS Calgary (cupscalgary.com), which provides a wide variety of integrated programs and services to people dealing with trauma and poverty. "I would say that 2022 presented elements of the most perfect storm in our history," said Donnelly, who recently celebrated 25 years at the helm of CUPS. "It's as serious as I've ever seen it."
Article content
As the more than 8,000 Calgarians they help on an annual basis struggle with everything from jobs and affordable housing to dealing with intergenerational abuse and poverty, mental health and addiction crises have taken a disturbing upward turn. "The pandemic has affected everyone's mental health," said Donnelly, CUPS' executive director, "but for our clients it is compounded by an already complex set of problems."
Article content
From corporate offices and suburban neighborhoods to the increasingly mean streets of our city, mental health and addiction issues have exploded in our society.
Our not quite post-pandemic world still sees one in five Canadians reporting mental health problems such as anxiety and depression; recent surveys also show that more than 40 per cent of Albertans feel stressed about what will come next in the pandemic, with fears that it will continue for years. According to the Center for Addiction and Mental Health, a Toronto-based psychiatric and teaching hospital, the economic cost of mental illness in Canada is estimated at more than $50 billion per year.
The near-doubling of self-reported alcohol use and a significant increase in drug poisoning have also shown no signs of slowing. The alarming opioid death rate we began to see in 2020 also remains relatively consistent, at a rate double that of pre-COVID levels.
Article content
Yet soldiers like Donnelly forge ahead, determined to do their part to help stem the grief and loss that accompanies these societal ills.
CUPS Calgary is one of several Calgary social agencies featured in the 2022 Christmas Fund. Every weekend during the month of December until Christmas Day, Postmedia Calgary will highlight a variety of social issues in our city and show how through the generosity of our readers, we can all make a difference to help our fellow Calgarians, including some of the city's most vulnerable .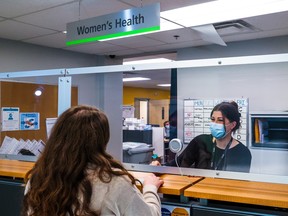 While these are indeed challenging times, it ignites a fire among people like Donnelly, who is eager to discuss some of the initiatives her organization has undertaken to combat the growing threats to our collective well-being.
Article content
CUPS' opioid treatment program along with its outreach program, called Connect 2 Care — which assesses and supports those unique Calgarians — helped nearly 400 clients last year.
A new capital campaign is also underway to expand the physical space of CUPS' health and mental health clinics. "It's estimated that for every client helped through our outreach program, it saves our healthcare system $10,000 on just one hospital visit alone," she says. "Many of our clients make between 10 and 20 visits to hospital emergency departments each year."
Like CUPS, Bruce Halstead's organization has faced unprecedented hardship over the past three years. "Addiction and isolation go hand-in-hand and the pandemic has exploited that," said Halstead, the executive director of Fresh Start Recovery (freshstartrecovery.ca), which for more than three decades has served men and their families at its Calgary and Lethbridge long-term recovery addiction treatment centers. "For recovery to happen, you need connection, not isolation," he says. "We had to rethink a lot of the ways we reach out to help."
Article content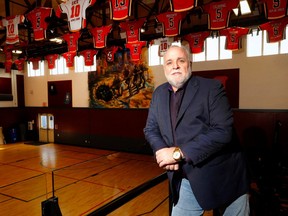 Like other agile Calgary agencies helping those in crisis amid a global one, Halstead and his team stepped up during the pandemic, offering online counseling and connection. Despite the fact that much of that connection has gradually returned to the personal, Halstead says the pandemic has had a lasting effect. "Demand for our services has always been high," he says, "but now the people who come to us show a much greater seriousness of need."
He has praise for his front-line staff, who have continued to show up every day despite the added stressors of the past three years. "It really wore a lot of people down, but they still have a lot of resilience and commitment."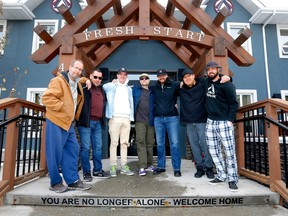 While Fiona McColl's clients know they are at the end of their lives, they and their loved ones are still in great need of mental health support. "The care is obviously medical, with comfort and symptom management front and center," says McColl, executive director of Hospice Calgary (hospicecalgary.ca). "But we also care about the whole person, along with their families."
Article content
Along with the Rosedale Hospice, which cares for those with terminal cancer, Hospice Calgary also operates a children's bereavement centre, which sees around 2,000 children, teenagers and their family members each year. "Violent childhood events can affect someone's mental health down the road," she says. "Our goal is to not only help them with the immediate effects of grief and loss, but also to prevent future mental health crises. Our staff are experts in grief."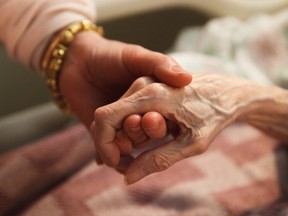 Like Halstead, McColl says her organization has seen an increased seriousness in mental health issues since the start of the pandemic. "If you know that 12,000 children and teenagers in Calgary will be affected by the death of a parent, it is clear that our work is vital to the health of the entire community."
Article content
Still, she's encouraged every day by the positive impact Hospice Calgary's services — which include a center focused on helping people living with advanced illnesses — have on her clients. "We have the difficult conversations that no one wants to have," she says, "and in doing so we see lives change for the better."
It's a sentiment Donnelly shares. "It's really going to take years before things are stable again," she says. "But if we can work together and have government and community support, we can survive the storm."
To help the Calgary Herald/Calgary Sun Christmas Fund support 75 plus charities in our city, please click here, select the charity of your choice, then make your donation online. Thanks in advance for helping us to help a lot!