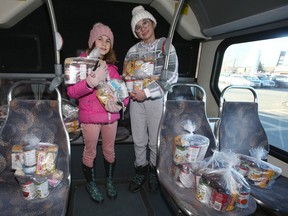 Article content
Calgary residents loaded up buses across the city Saturday with things like canned tuna, macaroni and peanut butter for the Calgary Food Bank's 30th annual Stuff-A-Bus food drive.
Article content
For the first time since the COVID-19 pandemic, 250 volunteers were back in person to collect non-perishable products.
Article content
Buses were parked outside Calgary Co-op locations across the city and even in some remote communities as shoppers dropped off donations in hopes of filling each bus.
Michael Pasma, CEO of the Calgary Food Bank, said with inflationary pressures, the demand for food restrictions is higher than it has ever been.
"In October we served 9,500 hampers at the food bank. The previous year we served on 8,700 in the same period. So this is a significant increase."
Pasma said the percentage of people who have access to the food bank that is currently working is also higher than ever. He said a wide variety of people from across the city have access to food parcels.
Article content
However, Pasma said despite the ongoing problems, he is not worried about meeting demand.
"The reason there is not so much concern is events like we have today," he said. "So the community does a good job of supporting us. Whether it's Calgary Transit, Calgary Co-op or the Calgary Motor Dealers Association, Calgarians in general have supported us through very difficult times and they will continue to do so."
Mayor Jyoti Gondek was on hand to launch the 34th Annual Mayor's Christmas Food Drive.
"This year is going to be very difficult for many people in many families," the mayor said. "There are still people who are facing a very difficult time. We are just coming out of an economic recession. We are just getting through the worst part of the pandemic, we hope, and there are many families who need our support right now."
Article content
She said this year councilors are launching their own competition to see who can collect the most food. She said the winner, who will be announced in January, will win the Golden Salad Award.
Ken Keelor, Calgary Co-op CEO, said this is the 30th year the Co-op has hosted Stuff-A-Bus.
"It's one of the biggest food drives in the city," he said. "And Calgarians can actually give back all year long through this process, but we make it up this time of year because we know that's when the community needs it the most."
Keelor ​​said they have pre-made packages of key items that can be purchased and dropped off at checkout.
"So these are things that can be shelf-stable, and they can be transported safely and food-safely and yet put into storage by the Food Bank to provide families who can then put a meal on the table," Keelor ​​said.
The food bank says it can stretch cash donations even further because of its purchasing power. To make a cash donation or get more information about the Calgary Food Bank, visit calgaryfoodbank.ca.