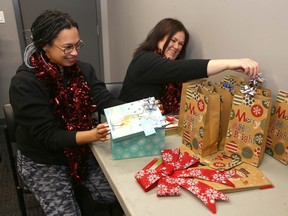 Article content
The best gift of all to the hospitality sector this holiday season is the return of corporate Christmas parties.
Article content
While some companies have managed to find a way to hold celebrations virtually over the last few pandemic-interrupted years, it hasn't had the usual cheer and many in the events sector have a lump of coal on their bottom line left.
Article content
This year, the personal party is making a resurgence as the province enters the first December since 2019 without any COVID-related health orders in place.
Article content
"It brings millions and millions of dollars back into the community," said David Howard, president and founder of The Event Group. "This Christmas season brings a lot more business and dollars back into the industry."
He said that the events sector has been hit by pandemic effects over the past 2½ years, which has led to many people leaving for other professions.
Article content
Ernie Tsu, president of the Alberta Hospitality Association, said hosting Christmas parties this year is critical for local restaurants, bars and hotels as they try to recoup some of the revenue lost due to the pandemic. He said the sector had recovered to around 2019 levels.
Seen loosely as a way to improve mental health and sense of normalcy
Article content
"It's critical, not just in terms of finances, it's critical for mental health for people, for every entrepreneur and small business in our industry, in any industry for that matter, to get back to normal income and normal staffing levels," he said.
Lesley Plumley, owner and creative director at LP Events, also highlighted the mental health aspects of hosting large, personal events this year.
Article content
The spillover effect reinforces the sense of normalcy that can bleed into improving confidence in employees going back to work or coming together as a community, she said. It gives people confidence to go to these events knowing they're going to be safe and sound, she added.
She said maintaining her own mental health has been critical over the past three years as her business of 20 years has been decimated by circumstances completely beyond her control.
"Mentally, it was one of the hardest things I've ever had to go through in my career," she said. "But we persevered and were able to make it through on the other side. It was not easy."
Flashback to 2021: What Christmas Gatherings Across Canada Will Look Like for the Vaccinated and Unvaccinated

Stressed out about attending holiday parties? Subscription can help alleviate social anxiety
She said staff took pay cuts and did everything they could to run the business with hybrid and virtual events, but it wasn't the same as having activities in person.
Article content
One of the major challenges Howard has faced is companies trying to make last-minute arrangements because they are unsure of what unforeseen circumstances may arise. He said that a number of companies have to rotate in the first few months of 2023 to hold parties. Customers are also already booking before next year.
Plumley said her outfit is at maximum capacity with 22 Christmas parties between November 16 and the end of January. In many cases, clients had to book mid-week parties just to find a venue.
LP Events also books throughout the region, with shindigs in Kananaskis, Bragg Creek, Canmore and Lethbridge.
Corporate Christmas gatherings are smaller than in pre-pandemic times
Many of the parties are smaller than they would have been pre-pandemic. If a company booked for 5,000 guests in 2019, Plumley said, it's probably doing 2,500 this year, with an eye to being fiscally responsible.
Article content
Some companies are also starting to book retreats instead of parties, something she hasn't seen before but has two such events this year.
"One (client) in particular talked about their mental health and the morale boost for their staff," Plumley said. "What's great is that they can get some of the work done. They don't have to do it in January at the beginning of the fiscal year. They do it at the end of the year. This year, people seem to be ' have a little more energy."
Howard said that even though budgets are tighter this year, companies still try to recognize their workers and often incorporate charity causes with the parties, while cutting back on decor, gifts and other areas.
Plumley said she also sees influences from Calgary's burgeoning tech sector and Hollywood, with plans emphasizing lighting instead of chairs or other elements. In many cases, she said, it takes priority right after food.
"They're spending (money) on kind of cool digital lighting so it's another wow factor for the guests when they walk into a room," she said. "They see it in the movies, they see it online and they're like, 'we've got to have it.' "
jaldrich@postmedia.com
Twitter: @JoshAldrich03