The city is providing free shuttles to shelters from some CTrain stations over the next few nights as temperatures drop below -20 C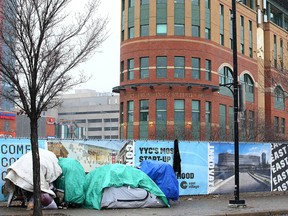 Article content
The city and local community organizations are expanding services to protect homeless Calgarians as temperatures are expected to drop below -20 C over the next few days.
Article content
Throughout the duration of the extreme cold, from Wednesday through Friday, the city plans to provide shuttles between select CTrain stations and the Drop-In Center and Alpha House from 8:30 p.m. to 1 a.m.
Article content
A variety of homeless support organizations are adding five new warming sites that operate from 7 a.m. to 7 p.m.—doubling the current number of warming sites across the city to 10. The new locations will add 200 spots at warming centers for a total of 335. Salvation Army will also set up a mobile warming station at a different CTrain station every day, seven days a week.
"These extended warming centers provide an opportunity to develop a relationship with another human being who truly cares about someone through a trauma-informed lens so they can bridge them to shelter, if appropriate, or other services," said Patricia Jones, president of the Calgary Homeless Foundation, notes the multiple supports available citywide.
Article content
"What this means is that people have choice and . . . people have access to other services while they're warming up, which could be housing, mental health, addiction, medical, psychiatric. It depends on the situation and the person and their readiness."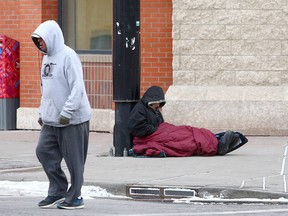 The homeless foundation puts occupancy rates at local shelters at about 80 percent, leaving some room to grow as winter approaches. Mayor Jyoti Gondek said the city wants to ensure anyone who needs help can get it.
"We have worked closely with our partners at the Calgary Homeless Foundation, local shelters and community groups to offer services that will allow individuals to access facilities that have the capacity, teams and resources in place to best support them," said Gondek said.
Article content
The downtown Calgary walk-in center has seen increased demand in recent weeks, with 723 of its 1,028 beds filled Tuesday night, an increase from the October average of 583. While not near capacity, spokesman Nathan Ross said there is room to add beds. during emergency situations.
"The cold is a real danger," Ross said. "At no point will anyone be turned away because of building capacity."
Provincial investment 'huge' for Calgary's homeless population: Gondek

Calgary social agencies are preparing for the number of heads of homeless population

Opinion: Homelessness in Alberta is a public health emergency
In southeast Calgary, the Mustard Seed Foothills shelter was at or near its capacity of 370 people this past week. The Seed's director of health and wellness, Samantha Lowe, says they have coordinated with other shelters to ensure everyone who comes to them gets a bed for the night.
Article content
"It's a challenging time for people who are experiencing poverty and homelessness right now because of the economy, inflation and just everything being so expensive," Lowe said. "People often choose between food and housing, and they end up at our shelter and we try to support them as best we can."
The Mustard Seed and other organizations continue to collect donations and warm clothing for those in need. The DI accepts items at its 3640 11A St. NE donation center, and has also released an Amazon wish list at calgarydropin.ca/amazon, which people can use to donate needed items over the Internet.
Without shelter or warm clothing, people experiencing homelessness can experience severe frostbite, sometimes to the point of amputations or serious infections.
Article content
"When it gets this cold, it's really important to have that sense of shelter, and if people choose to sleep rough, just make sure they have enough supplies like those warm items just to get through the harshness of winter ," Ross said. .
A list of warming spaces, shelters and other supports is available on the Calgary Homeless Foundation's website. The city urges residents who see someone in need of help to contact the Downtown Outreach Addictions Partnership (DOAP) team at 403-998-7388 or call 911 if someone is in a medical emergency.
Low temperatures are forecast to rise into the low teens overnight on Saturday, with an expected high of -5C.
mrodriguez@postmedia.com
Twitter: @michaelrdrguez