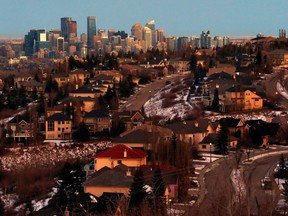 Article content
Calgary city council on Friday approved its four-year budget, which includes an administration-proposed 4.4 per cent residential tax increase and a $65-million funding package for essential services and community groups.
Article content
The average homeowner of a $555,000 home can expect to see a $10 increase on the municipal portion of their tax bill next year. The typical apartment owner could see their bill drop by about $10.
Article content
Mayor Jyoti Gondek noted that residential homes have increased in value by an average of 14 percent over the past year.
"What we've managed to do is ensure that you don't pay 14 percent more because the value of your property has gone up so much," the mayor said. "We were able to lower the property tax rate."
A decision on the tax share between residential and non-residential properties, which could change the tax bill, was postponed until early next year to look at possible alternatives, after an amendment by gr. Sonya Sharp.
Article content
Currently, residential taxes pick up 52 percent of the bill, with non-residential taxes covering the rest.
Gondek said this was one part of the budget she was disappointed with because she had hoped to give business owners more certainty about their tax bill.
The mayor said 95 percent of Calgary's business community is made up of small businesses that employ one to four people.
"Those people need some certainty and predictability in what they can expect and they don't have that yet," she said.
The main budget motion passed 10-5, with council members Sharp, Sean Chu, Dan McLean, Jennifer Wyness and Andre Chabot opposed.
Budget discussions lasted all week, with the council hearing from its partner on Monday, and on Tuesday and Wednesday from more than 150 members of the public and community organisations.
Article content
Friday began with an omnibus motion that provided $64.7 million in one-time funding to a range of community partners and city departments the council needed more attention.
The $64.7 million came from a projected $65 million budget surplus this year.
The amendment included $3 million to freeze Calgary Transit fees at 2022 levels for one year, $3 million to eliminate transit fees for children 12 and under in 2023, $19 million for mental health and addiction strategies and $10 million for the Calgary Fire Department .
Other organizations that have received funding include Tourism Calgary, Vibrant Communities Calgary, Sport Calgary and the Calgary Parks Foundation.
City tax scenarios provide a window into how much homeowners could pay

Council faces tough budget decisions on non-residential tax share

Taxes, services up for debate as council begins deliberations on four-year budget
Shovel. Evan Spencer brought up the omnibus motion, but he said it was a collaborative effort made throughout the week, as council members heard from citizens, community groups and city partners.
Article content
"We've drawn on what Calgarians have been telling us over the past year and changed," Spencer said. "We want to make sure we get it right. But we're balancing some extreme priorities in terms of affordability and then also in making investments in this community to make sure we get where we want to go."
The Council also approved $75 million in one-time capital spending, including $20 million for pedestrian and bicycle networks, and $20 million for the Foothills Fieldhouse.
Sharp voted in favor of the surplus spending. She asked Calgary CFO Carla Male if the budget surplus could simply be applied to the city's base funding. Although it could, it would create what is known as a bow wave, where the one-time funding has to be made up the following year.
Article content
"So, to me, the $140 million is not considered spending," Sharp said. "It's investing in great initiatives and giving that little boost to some of the things in the budget that didn't get what they needed."
Shovel. Courtney Walcott successfully moved an amendment that would take the proposed price of an annual Type 1 residential parking pass from $15 to $50. He found that the city taxpayers were subsidizing the parking tickets at $15, and he wanted to make them revenue neutral.
Sharp noted that the budget won't be finalized until the new year, and she said there are still opportunities for other savings to be found.
"We did make some recommendations for administration to go away and look at possibilities before we finalize budgets, which I think is very important," Sharp said. "There's a lot going on for Calgarians right now. And the compounding charges and costs of just living in Calgary are adding up, so I'm hoping that the administration will come back in the new year with some opportunities before we go to budget funding."
brthomas@postmedia.com
Twitter: @brodie_thomas