'We have been significantly affected by the rising price of food and food safety issues'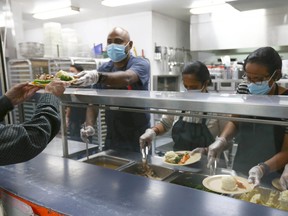 Article content
As interest rates, the cost of living and the price of food continue to rise, many Calgary charities are being forced to come up with creative ways to make donor funds and tackle food insecurity.
Article content
With the holiday season approaching, Mustard Seed CEO Stephen Wile said it's encouraging to see donations increase, but rising operating costs have pushed day-to-day operations to the limit.
Article content
"We have been significantly affected by the rising price of food and food security issues. We provide 1,000 meals a day in Calgary from our shelter and we've seen the cost of our meals increase by about 60 percent since the spring," Wile said, adding that the price of one meal has increased over the past six months. from $3.14 to over $5.
To keep up with increasing demand, the Mustard Seed is expanding its Christmas Hamper program by sending out one week's worth of food to approximately 300 families across Calgary instead of just the supplies for one Christmas meal.
Article content
Donors stepped up to tackle food insecurity, Wile said, as did the provincial government, which provided resources to help cover the cost of meals at the 370-mat shelter that was at or near capacity in the second half of 2022. .
"What we see in Calgary also reflects Edmonton and Red Deer and Medicine Hat and Kamloops. So it's not just a Calgary problem, it's a national issue," said Wile.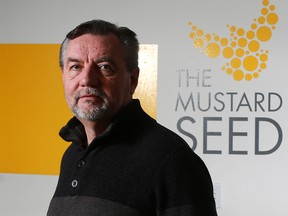 Rick Armstrong, executive director of Our Collective Journey, said they also had to come up with contingency plans to ensure they could feed the 700 people expected at their Coldest Night dinner event on Friday.
"(Rising costs) put a lot of pressure on us. . . We did have a budget in mind, and then we started getting quotes from caterers and that increased the budget significantly," Armstrong said.
Article content
"We said if we don't reach our (fundraising) goal, we're going to cook. I think it worked out for about 35 turkeys."
Fortunately, Armstrong's group and partner organization Oxford House Foundation won't have to cook themselves, thanks to the generosity of corporate sponsors, specifically AGAT.
"Many of our sponsors came to the table and said, 'We can't imagine what it's going to cost you this year, so luckily everyone opened their wallets and we were able to reach our fundraising goal.
Adopt-a-Family sees the greatest need yet as Calgary families struggle through the holidays

'Quite alarming': National hunger count finds food insecurity continues to rise, especially in Calgary

Bank of Canada raises interest rate, but end is mercifully near
Donors also came through for the Calgary Salvation Army's Christmas dinners, which cover the entire cost for their Center of Hope, women's shelter and west campus meals.
Article content
"Where we see a big impact and a big need around food is actually our day-to-day," said Salvation Army Executive Director Cliff Wiebe. "We're seeing the lineups grow and grow" for the organization's drop-in food package program, he said.
The Salvation Army's 80-bed men's shelter and 18-bed women's shelter have been overcapacity for about eight months, Wiebe said, and the loss of provincial grants the organization received during COVID has put a major dent in the services it provides. they can deliver.
Their 160-bed men's transitional housing facility received government funding to provide meals during the pandemic, but since that stopped, it is not possible to keep it going.
"They can still pay for meals; breakfast is $3, lunch is $4 and dinner is $5, which is still very cheap. But we just can't provide it for free anymore," said Wiebe.
"The needs have continued to grow despite being covered this Christmas by a fantastic major donor, for which we are so grateful. We do have food needs, just every day of the year."
ocondon@postmedia.com