With 12 months to go before many single-use plastics are banned, some businesses are concerned that there won't be enough supplies of sustainable products available when the ban comes into effect.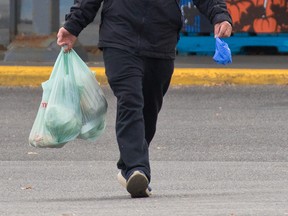 Article content
As Canada enters the next phase of banning single-use plastics on Tuesday, the Calgary restaurant sector has questions about the logistics of transitioning to more sustainable products.
Article content
The latest stage of the federal government's ban includes the manufacture and importation for sale of plastic payment bags, cutlery, food service ware, stir sticks and straws. For companies that are focused on taking out, there is going to be a big shift in their operations.
Article content
Ernie Tsu, president of the Alberta Hospitality Association, said the sector is more than willing to make the transition – the challenge is whether there will be enough supplies of sustainable products available for when the full ban is in place 12 months from now.
Article content
"Enough notice has been given to try and blow it out, but we're still waiting to make sure the new suppliers are able to keep up with the demand for the new recyclable product," he said. "It's all well and good to say, 'Hey, we need to switch everything across the country to recyclable single-use,' but you can't do that if the suppliers can't keep up."
Article content
The Council gives the green light to strategy for the reduction of single-use waste

Varcoe: Businesses support the city to reduce disposable items
Restaurants, bars and retail outlets will still be allowed to distribute the single-use plastic products until December 20, 2023. However, they will have to make do with the current level of inventory as the production of these products in Canada and their import will be banned going forward. Once plastic supplies run out, they will only have to use the sustainable option.
Article content
The concern is not only sourcing these products, especially for the smaller independents, but also what they will cost.
John Graham, prairie director of government relations for the Retail Council of Canada, said retail has mostly made the transition away from plastic bags, especially grocery stores where paper and reusable options are already becoming the norm, though there are exceptions.
Article content
"Groceries tend to be the highest volume of check stand bags that are distributed in the community, and so on the plastic bag front, I think there's a lot of action being taken," he said.
The city of Calgary said in October it would move forward with a bylaw in 2023 aimed at reducing waste, as opposed to just the federal ban. The city said 3.5 million single-use bags end up in the landfill every week. The city's potential legislation would require mandatory fees of 15 cents per paper bag and $1 per reusable bag as a way to level the playing field between independents and larger chains.
In September, Calgary Co-op raised concerns about not being allowed to sell compostable bags at checkout, but they could sell them by the box for composting.
Article content
In an emailed statement last week, the grocer said it was already beginning to transition away from the sale and distribution of single-use plastics.
"We have already started to replace many of our single-use plastic items, such as our deli trays, and we will continue to work through all of our current banned stock and convert it all to alternative products before the December 2023 deadline."
Bob Masterson, president and CEO of the Chemistry Industry Association of Canada, said the federal legislation does not take into account efforts being made within the industry to create more sustainable products.
He noted that only about 10 per cent of single-use plastic is recycled in Alberta, while BC leads the way with 55 per cent, which is still outside of their overarching targets of zero waste. Alberta's new extended producer responsibility regulations will shift the cost of recycling away from municipalities and onto producers in an effort to reduce the amount of packaging.
Article content
Some of the banned products, such as grocery bags, are already recyclable.
"It's a frustration that the industry has," Masterson said. "If you want to say to the industry, 'You have a certain amount of time to transition and if these items are not recyclable, we're going to remove them from the market,' that's a whole different conversation.
While there won't be a major impact on Alberta's petrochemical industry, Masterson said single-use plastics make up less than one percent of the resin produced by these refineries and there is the potential for loss of manufacturing to the U.S. . Many of these jobs are based in Ontario with several companies already closing their doors in Canada and moving south, where there is continued growth in the sector.
jaldrich@postmedia.com
Twitter: @JoshAldrich03