The city has released its proposed four-year budget, and if councilors stick with the initial numbers, homeowners are going to be on the hook for an average annual increase of nearly 4 percent over the four-year cycle.
In the city's 2023-2026 service plans and budgets presented to council Tuesday, the total annual operating budget is expected to rise from $4.6 billion to $4.9 billion by 2026.
Calgary Mayor Jyoti Gondek said she was impressed after the city's administration went back to the drawing board over the summer.
"We've heard from our general managers, we've heard from our CFO that they feel Calgarians can continue to expect a strong level of service with a lot of respect for the fact that we're just coming out of the recession," Gondek said.
However, the total amount of tax collected from existing properties will increase by an annual 3.7 percent increase. Homeowners in Calgary could see a property tax increase of 5.2 per cent in 2023.
"We've done our best with the administration to make sure that the increase you're facing is based on inflation and population growth, just like inflation affects everything else in our lives," Gondek said.
"The other thing I would ask people to remember and focus on is the assessed value of your property, you can compare what it was last year to what it is this year. And then you can better understand why your property taxes may go up."
Gondek says the business community asked for something lower to remain competitive, forcing the city to "balance the interests of the business community".
"If we left things as they are now, … it looks like the non-residential people pay about 4.13 times more than the residential people. That's how the proportion and the ratio worked out," Gondek said.
"We will have to think about what this means in terms of investment and economic growth. And we'll have to think about what that means for residential homeowners. It's not a quick fix."
About 65 percent of the property tax is intended for city services, while 34 percent will go to the province.
Budget included information from Fall Survey of Calgarians
The 2023-2026 service plans and budgets were helped by Calgarians and their input in surveys and engagement conducted throughout the year, including the most recent Fall Survey of Calgarians.
It highlighted traffic and roads, crime, safety and policing, and transit. Additionally, the top priorities for additional investment included affordable housing for low-income Calgarians and public transportation.
Police services are expected to see a $34.8 million increase in funding, bringing more personnel and technology to the city's police force.
While some council members were hoping for a future property tax freeze, Ward 1 Coun. Sonya Sharp says that reality is hard to predict.
"I can't speak for the years to come, but I can say right now it's going to be really hard to move forward with a zero percent freeze for what even Calgarians are asking just around public health and safety," Sharp said.
"Calgarians are asking for things that will cost money. And it's affordable to live and fix crime in the city."
The city says 87 percent of Calgarians said they feel safe. However, in 2022, according to the Fall Survey of Calgarians, 77 percent of residents report feeling safe.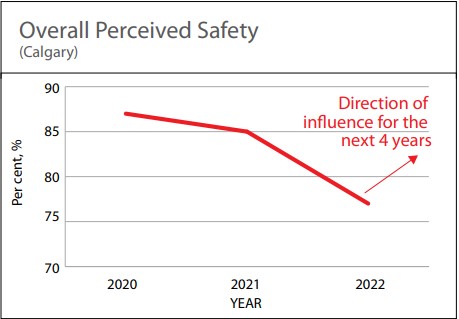 They also add that about 68 per cent of Calgarians report a sense of belonging in their community.
The city says household expenses will rise 7.2 percent this year, adding that it has tried to "keep expenses as low as possible" to maintain affordability.
For the city's operating budget, more than $500 million is budgeted for transportation improvements, and $276 million is saved for recreational facilities, public safety and affordable housing.
A total of $10.2 billion will be invested in capital infrastructure.
"Calgary, like the rest of the world, has experienced a lot of change in recent years, and we continue to experience a long-lasting impact on our services and affordability," Chief Financial Officer Carla Male said in a statement.
"Calgary is not immune to global challenges such as inflation, the COVID-19 pandemic, economic downturn and climate change. Therefore, it was particularly important to strike a balance between services and costs during the development of the 2023-2026 service plans and budgets. We have closely monitored our finances, maintained a focus on streamlining government costs and implemented innovative and customer-focused improvements."
The city says the net operating budget is zero because "we only budget to collect enough property taxes as we need to provide our services."
Services are increasing throughout the city
While funds are appropriated for transit improvements, public safety and affordable housing, prices for city recreation facilities and for transit tickets are rising over four years.
A single transit ticket could rise to $4.00 by 2026, an increase of 10 cents each year.

Prices for recreation fees around the city will increase by 6.3 percent annually, which includes senior admissions and passes.
They add that seniors will still see a 31 percent discount compared to the adult rate at Calgary aquatics and fitness facilities, which they say "represents a gradual reduction" from the current discount, which is 40 percent of adult rates.
Cemetery rates are also expected to increase, although the city has not detailed anything for the years after 2023.
"The difference between what we're actually looking at here in Calgary is that a little bit of money a month is a drastic, drastic shift in the quality of services you can provide to people," said Ward 8 Coun. Courtney Walcott.
Budget's main expected operating investments
A projected $41 million will be used to improve transportation services, for initiatives such as On Demand and eScooters, and for traffic safety.
The city is using $69 million to improve public safety, and $11 million will be used to service the parks and open space system.
Funds of $9 million will be used to support economic development and tourism, saying it will be centered around "the production of cultural attractions and for services for entrepreneurs and innovators."
Nineteen million dollars along with a one-time $159 million will be used to preserve heritage assets, for planning policies and for programs intended to revitalize the downtown.
There will be a one-time investment of $44 million, along with an ongoing investment of $3.8 million, which will be used for work intended to meet the city's 2050 climate targets.
The city's main expected capital investments
For capital investments, which pay for assets that benefit people in the city, more than $10 billion is allocated in various areas.
The city is spending $559 million on public transit to improve comfort and reliability, reduce maintenance and fuel costs.
In terms of public safety, $76 million will be spent for an "effective and reliable" emergency response, and for critical infrastructure upgrades in 9-1-1.
To support active living and recreation, the city appropriates $47 million. This also includes improving accessibility and inclusiveness.
To help with affordable housing, $154 million will be used to keep families housed, and to help promote safe and accessible inclusive housing.
The city is using $170 million for downtown and main streets, which will be used to improve the public realm, attract investment and improve quality of life.
Finally, $42 million will be used to reduce greenhouse gas emissions, mitigate climate risks and prepare for the low-carbon energy transition.
The city says it will continue to invest in infrastructure such as the projected Green Line, the BMO Center expansion and the Arts Commons transformation. They also include an event center and work will be done on field house.
The Council will debate and make final decisions on the budget from 21 November.
In the meantime, Calgarians can provide their input by writing to their councilors or by registering to speak with members later this month.
More information is about the city of Calgary website.
-With files from Tiffany Goodwein and Pete Curtis
The post Calgary budget: property taxes to average 3.7% over four years appeared first on CityNews Calgary.