Article content
Calgary basketball coach Sean Maheu "courted" a 14-year-old player with gifts before sexually assaulting him, court heard Monday.
Article content
Through a combination of testimony and a videotaped interview the complainant gave to police two years ago, the now 20-year-old said Maheu raped him in the coach's home.
Article content
And the witness told Det. Trish Allen, who interviewed him at police headquarters, said the abuse made him question his sexuality at the time.
The then-teenager also told Allen that he blamed himself for the sexual abuse.
"I felt like I could have done something to stop it," he told the detective in the video played during Maheu's provincial court hearing in Calgary.
Matt Deshaye, the defense lawyer, is challenging the admissibility of the statement, which is being presented by Crown prosecutor Rose Greenwood.
In the interview, the teenager told Allen that he was verbally and anally violated by his coach at the time.
Article content
The abuse happened when he was 14 years old, he told the detective.
Calgary police file new sexual assault charges against youth worker

Former basketball coach is accused of sexually assaulting a 14-year-old player
In the statement, he said oral sex occurred twice and he was raped on three other occasions, but the witness told Greenwood that both acts occurred each time he was abused.
The first time it happened, he was at Maheu's southwest Calgary home playing video games with his coach.
"He grabbed me by the arm and took me to the room and that's where the sexual assault happened," he said during the interview.
He said he was conflicted because his ethnic community frowned upon gays and he felt he would be viewed in a negative light.
Article content
"They were just shy in every way," he told Allen of the view of gays in that community.
"They are not painted in a positive light."
The abuse occurred "multiple times" over a period of approximately one month.
"After the first time I was traumatized, so I just let him do it," he said, recalling four or five separate occasions.
"I felt so useless and worthless that I didn't even care that he was doing it."
He said Maheu initially tried to "court" him by giving him gifts and driving him places.
"He would treat me like I was his… I don't even know how to explain it properly, but, like a boyfriend, I guess."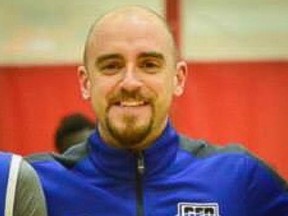 Maheu (40) faces four sex-related charges in connection with his dealings with the complainant.
He also faces sexual allegations involving another teenager in connection with his work as a youth worker.
That hearing was arranged for next March.
KMartin@postmedia.com
On Twitter: @KMartinCourts