News of John Roggeveen's appointment comes after a leadership contest was called off in August when no one came forward to accept the position.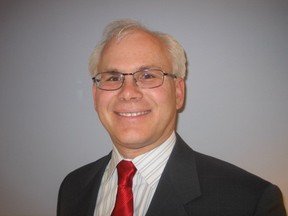 Article content
After a failed leadership contest last summer, the Alberta Liberal Party announced Thursday that it has tapped interim leader John Roggeveen to stay on permanently ahead of next spring's scheduled provincial election.
Article content
Roggeveen, a Calgary-based lawyer, has served as the party's top job placeholder since 2021, after David Khan stepped down following a 2019 election that shut the party out of the legislature entirely for the first time since 1982. With a general election approaching, the party's board unanimously approved a decision to allow Roggeveen to continue in the role without the "interim" designation.
Article content
"We are delighted to have John Roggeveen serve as leader of the Alberta Liberal Party," said party president Helen McMenamin. "His leadership resonated strongly with our board, our members and a growing number of Albertans. Even in this challenging and polarized political climate, I am confident that our next election will make gains under his leadership."
Article content
The news of Roggeveen's appointment comes after a leadership contest was called off in August no one stepped forward to take the job. Roggeveen said the party's bylaws prohibited him from throwing his hat in the ring as interim leader, but he was ready to take the reins now with a focus on restoring the party after a tumultuous decade.
"We must definitely build the party. We definitely need to build up our donors. We need to articulate a vision that the people of Alberta can agree with," he told Postmedia on Thursday. "In fact, to some extent, we may need to rejuvenate our brand because we've been maligned for years and years and years."
Financial reports show the Liberals have collected nearly $55,000 in donations through September 2022 — a number that pales in comparison to the NDP's $3.9 million and the UCP's nearly $2.4 million. The Alberta party also edged the Liberals in fundraising, raising about $85,000, as did the fringe Pro-Life Alberta Political Association, which raised more than $200,000.
Article content
Smith-led UCP in statistical tie with NDP as other parties fall away: new poll

'Is it a party if nobody shows up?': No candidates emerge to lead Alberta Liberal Party
Roggeveen said he was not sure the party would field a full list of 87 candidates in the next election, but he hoped to put the party on the right track to strengthen its presence in the province's political landscape.
"We believe that people should have a Liberal option in Alberta," he said. "If liberal candidates are willing to step up and run, we will by all means run as many candidates as we can get.
"But I'm not just interested in this election, but in building the future for the Liberal Party in Alberta."
MacEwan University political scientist Chaldeans Mensah said the Alberta Liberal Party is in a difficult situation, with many of their prospective voters choosing to vote strategically to prevent the UCP from gaining ground in urban centres.
Article content
"They have not made any progress since that historic breakthrough in 1993, when they were doing very well," Mensah said. "We've seen a steady decline in the fortunes of this party, and I think as the political system consolidates into a two-party system, it's really dangerous territory for the smaller parties."
Still, Roggeveen believes there is a place for the Alberta Liberals in provincial politics, saying he thinks there is an opportunity to be a "big tent party" that attracts voters disenfranchised by the two major parties.
"It includes a lot of people who are in the middle who are uncomfortable with the positions currently being taken by the UCP and who are uncomfortable with the NDP," he said. "I think we have the potential to be the party that can essentially find the balance between the left and the right spectrum."
Article content
Currently, Roggeveen said Alberta's top politicians are too focused on political drama and — in the case of Premier Danielle Smith — butting heads with Ottawa.
"(Smith) appears to be focused on fighting the federal government as her first priority. . . (NPD Leader) Rachel Notley, her first priority seems to be fighting Daniel Smith," he said. "My first priority will be to look out for Albertans.
"I think that I personally have a broader understanding of Alberta than either Danielle Smith or Rachel Notley."
An Angus Reid poll released Thursday projected support for the Alberta Liberals lean and decided voters at one per cent, while Smith's UCP and Notley's NDP were at 48 and 44 per cent respectively.
Roggeveen said he plans to announce early next year in which constituency he will run.
mrodriguez@postmedia.com
Twitter: @michaelrdrguez