FTX, based in the Bahamas, fell victim to an unregulated market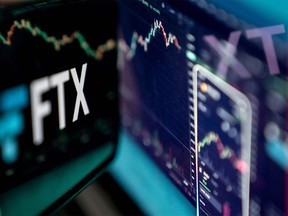 Article content
It's business as usual for Calgary-based crypto platform Bitvo in the wake of the collapse of global leader FTX Trading.
Article content
FTX reached an agreement to buy Bitvo this summer, but the deal has been held up by a regulatory process and has yet to close.
Article content
Pamela Draper, CEO and president of Bitvo, said it was unclear how FTX filing for bankruptcy would affect the acquisition, but the fall of FTX was a surprise.
"We were absolutely shocked," she said. "I think every player in the industry and people who followed the FTX story around the world were surprised, and we were no different in that regard."
Article content
Bitvo did not interrupt trading operations, withdrawals or deposits, Draper said.
FTX, based in the Bahamas, fell victim to an unregulated market. Much of FTX's $14.8 billion in assets is believed to be invested in its crypto token called FTT. The company's biggest rival, Binance, sold its $580 million stake in FTT last week, sparking a sell-off by investors.
Article content
Over the course of a few days, the Ontario Teachers' Pension Plan reportedly lost its entire $95 million investment in FTX's international and U.S. arms.
The Alberta Investment Management Corp. said in an email statement that it does not hold any direct investment in FTX or any other cryptocurrency or crypto-related company.
Article content
"Cryptocurrencies are not an asset class or an investment that we believe is a prudent match for our client's portfolios," it said.
These platforms operate in many ways like a bank, except that a traditional bank in Canada is guaranteed by the Bank of Canada and the federal government and is strictly regulated when it comes to investments. It is designed to ensure that customers have access to their funds. Globally, the cryptocurrency world is a Wild West.
Article content
When Binance instigated the sale of FTT, others also tried to get their money out, but the funds are largely absent.
This is a hit to investor confidence in cryptocurrency, which has already struggled with these concerns due to volatility and a lack of global regulation.
Canada is an outlier in this, having introduced regulations to operate in the country following the collapse of Ontario-based platform QaudrigaCX in 2018. Bitvo complies with those regulations, including keeping more than 90 percent of investments in cold storage, that prevent hacking and to ensure customer access to those investments.
Draper said that this level of regulation is something that attracted FTX to Bitvo.
Tom Brady, Shohei Ohtani among the biggest losers in FTX collapse

Man Banned Eight Years Must Pay $165K After WhaleClub Crypto Investment Fails

Bitvo comments on pending transaction with FTX Trading Ltd.
However, FTX was not in compliance with Canadian regulations and could face a series of disciplinary actions from jurisdictions around the world.
Article content
The consequences of regulation may have more impact for investors to rebuild future confidence in the sector.
"I think one of the things the industry needs to do going forward is to prove more use cases, not just speculative trading," said Ryan Clements, assistant professor and chair of business law regulation at the University of Calgary. "It's kind of a moment where if you want to get industry confidence back, we need functions of crypto more than just trading, because we think coins go up or down."
Clements advised the Emergency Commission for Public Order on cryptocurrency for the truck convoy hearings with an expert report in September.
The ripple effect is being felt across the sector, with a number of cryptocurrencies falling in value since the collapse of the platform.
Article content
Bitcoin, for example, lost nearly 26 percent of its value between Nov. 5, when it was worth $28,712.95 CAD, to Nov. 12, when it fell to $21,081.85. It rose to $21,913.30 on Monday afternoon.
Clements said it was unclear how many Canadian investors were caught up in the collapse, but he said he knew a number of people who couldn't get their money out of FTX.
He said he expects regulatory policy to emerge from this crisis in the US and other countries to better protect the sector.
"We actually have pretty good regulation (in Canada). What we need is for Canadians to stop using unregulated platforms," he said. "It could be a scenario of better education in terms of who is regulated, who is not, and perhaps also an increase in enforcement."
– With files from The Canadian Press and The Associated Press
jaldrich@postmedia.com
Twitter: @JoshAldrich03