Sports bars across the city have seen a positive impact on their bottom lines through viewing parties and impromptu gatherings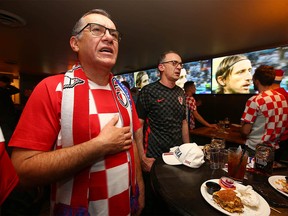 Article content
While Canada was eliminated from the World Cup two weeks ago, local bars are still cashing in on the biggest sporting event on the planet.
Article content
As Croatia and Argentina prepared to kick off for the first semi-final on Tuesday, Limericks Traditional Public House prepared for a capacity crowd.
Article content
The local Croatian community made the watering hole their gathering place for the tournament, giving the Irish pub a much-needed post-pandemic boost.
Article content
"It was a lot of fun, it brought energy back after two years of COVID," said George Kaketisis, co-owner of the 330-seat Fairview establishment. "That was a nice little bonus."
Sports bars across the city have seen a positive impact on their bottom lines through viewing parties and impromptu gatherings.
Article content
France and Morocco meet in the second semi-final on Wednesday, with the final scheduled for Sunday.
Article content
Alberta bars saw a 20 percent increase in sales for Canada's first two games of the tournament — the biggest jump in the country, according to Moneris, Canada's largest payment provider — despite morning start times. Peter Goldsztajn, vice president of analytics, said they measured week-to-week sales for the various provinces. The increase is for all bars in Alberta.
He said it's an indication of what to expect as we get closer to 2026, when Canada, the US and Mexico share hosting duties. Then games will be in a much more favorable time zone.
"I think bars and restaurants have something to look forward to in 2026," he said.
Calgarians coming out for World Cup games
Pete Emes, co-owner at Home and Away on 12th Avenue and 1st Street SW, said the diversity of Calgary was on display throughout the World Cup, although their biggest crowds were for games with Canada and England.
Article content
He pointed to Canada's roster of players with global backgrounds, including goalkeeper Milan Borjan, who is originally from Croatia, and superstar forward Alphonso Davies, who was born in Ghana, grew up in Edmonton and now playing for Bayern Munich, one of the biggest football teams in the world.
Emes saw the city rally behind Canada's first appearance in the tournament in 30 years. Still, that didn't hit the mark of this spring's Battle of Alberta between the Calgary Flames and Edmonton Oilers, which turned into all-night parties every other day for nearly two weeks.
"You can't compare it to hockey — the hockey fans in Calgary are insane. They go out for the games, and you get people out and about before and after," he said. "The games for the World Cup are at earlier times, so people often come on their lunchtime, which makes it a bit different."
Article content
Calgarians come out to support Canada's 'special moment' at the World Cup

Pubs are gearing up for early morning World Cup matches, although staff are stretched thin

Calgary is bursting with preparations for the upcoming FIFA World Cup, early morning kick-off
Geoff Allen, co-owner of Bottlescrew Bill's in the Beltline, said the World Cup is big for their lunch service and they expect a full house for Sunday's final, which starts at 8 a.m. in Calgary. Fans can even enjoy a beer with their special breakfast.
Pubs are getting an extra boost before Christmas
The time of year also made a difference for bars. The World Cup is usually in the summer, but because Qatar is a desert nation with temperatures above 50C in the summer, the tournament was moved to November and December this year, providing an extra boost in revenue ahead of Christmas.
Article content
"It's really helpful for us because it allows us to add some other shifts for some of the part-time staff, and helps everyone make a little more money here before we go into the holidays," Allen said.
The Garage Sports Bar was not entirely focused on the World Cup, with more of a corporate crowd during the Christmas season, but it also saw a big effect from the month of football.
After two years of restrictions and closures, owner Charlie Mendelman welcomes any positive business.
"Since Premier Jason Kenney lifted the restrictions, it's been a huge boost for our industry," he said. "Stamping was great, Christmas is going to be great and you have the football on top of that. Everything is great now."
jaldrich@postmedia.com
Twitter: @JoshAldrich03