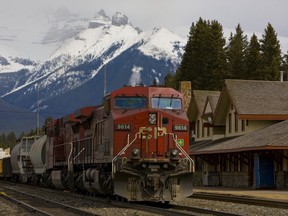 Article content
A proposed hydrogen-powered passenger rail line between Calgary International Airport and Banff is getting new priority from the provincial government.
Article content
The link championed by a Banff-based company was highlighted in the United Conservative Party government's economic mandate issued on Tuesday, which highlighted the importance of tourism.
Article content
And in a letter to Calgary Mayor Jyoti Gondek, Premier Danielle Smith said the province is interested in helping the city extend its LRT to the airport, possibly to partner with a rail link to Banff.
"I will also invite the city to work with the province and potentially private industry to explore options for the creation of a rail link between Calgary and Canmore/Banff," she said in a letter dated Nov. 15.
"Such a line would benefit Calgarians, Albertans and all visitors to our province by gaining access to one of the world's greatest natural wonders, our provincial and national mountain parks system."
Article content
Smith goes on to say such a rail line would boost international and domestic tourism while improving safety by reducing the amount of vehicular traffic on the Trans-Canada Highway between Calgary and the mountain mecca.
And she said the train will also benefit the province's efforts to reduce greenhouse gas emissions and develop green industries.
"I will also note the potential to utilize hydrogen powered locomotives in this aspiration, which will both reduce emissions and align with our government's vision to make Alberta a world leader in hydrogen technology research, development and manufacturing," Smith said.
Liricon Capital Inc. and Plenary America, which is spearheaded by Calgary Airport-Banff Track project, say they have submitted a proposal to Alberta Transportation, Invest Alberta and the Canada Infrastructure Bank to pursue the concept they hope to have completed by mid-2025.
Article content
The Canada Infrastructure Bank will cover half of the $1.5 billion construction cost.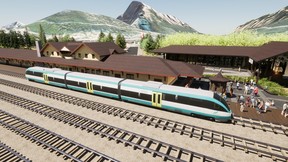 The preliminary blueprint envisages a 150-kilometer track line running south from the airport, paralleling the existing CP tracks along the west side of Deerfoot Trail before crossing the Bow River on an existing bridge.
Proposed stations would be located at the airport, downtown, near Stoney Trail at the Trans-Canada Highway, Cochrane, Morley, Canmore and Banff. It's new building tracks will follow the existing CP freight corridor, which provides 10 trains per day to the Rocky Mountain terminus.
Family business Liricon Capital, which owns the Mount Norquay ski area and has a long-term lease of the existing Banff train station, has predicted the line could be "capturing less than 25 percent of visitors to Banff National Park," hosting more than four million people a year, by far the busiest of Canada's national parks.
Article content
A recent clarification of the company's financial balance to the province, which would see it kick in a limited $30 million a year to help pay off the project's bond, was a key to the province's renewed interest, says Jan Waterous , Liricon's managing partner.
The province backed away from the project, citing concerns about potential ballooning costs for taxpayers.
"We have been working with the province since June to make this clear," she said.
Another factor was Parks Canada unveiling its 10-year management plan for Banff National Park last August, which emphasizes mass transit with lower emissions, Waterous said.
"These things give the province a lot of incentive to revisit," she said.
"I feel so optimistic. … It's been a journey, but we're so close, now we feel refreshed again."
Article content
Waterous said she expects to meet with provincial officials in the coming weeks with hopes of continuing consultations with communities along the rail route, including First Nations — a process expected to take 18 months.
This will lead to design and construction in a public-private partnership whose costs will be minimized by simply interlocking the tracks along the existing CP rail route, she said.
"This is space that we would essentially be leasing from CP Rail," Waterous said, adding that Liricon last month renewed a memorandum of understanding with the rail company for another year in anticipation of a green light from the province to obtain.
Supporters of the Banff passenger rail project say they need a yes-or-no answer from the province

Calgary Airport-Downtown-Banff passenger rail link steps closer to reality
Environmental critics have raised concerns about the train and the possibility of increasing collisions with wildlife.
Article content
Waterous said consultations on the design could include features such as wildlife underpasses or crossings, or other protective measures.
"The aim is to make the tracks safer for wildlife than they have ever been," she said.
Waterous said countering increasing traffic congestion with environmental degradation was a major catalyst for her company's efforts to create the rail line.
On Tuesday, Calgary Mayor Jyoti Gondek called Smith's interest in a rail link to the airport "good news" for the city, but added it was far too early to comment on any cost breakdown.
"Toh I It send a apparent signal that the province is very interested in strong public transit and transport options," Gondek said.
Article content
"I believe Council would be interested in revision what we Share of that cost would be, but on be able to on has bigger connectivity of the airport on centre and eventually on Banff is something that we has talked over very times now that we has a provincial partner it is interested in that talk."
She would not say whether she favors an extension of the Green Line through north-central Calgary over a connection to the airport.
While welcoming Smith's expressions of interest in an LRT link to the airport, Calgary Nose-Hill MP Michelle Rempel-Garner said governments should be focused on getting underserved residents in the city's north-central area from provide improved rail transport.
She said such a link, envisaged by the Green Line, should also take priority over tourism-related projects.
"Almost 10 years ago, the federal government provided $1.5 billion for a light rail transit line that would take nearly 50,000 vehicles off the road by allowing communities in north-central Calgary to connect with the rest of the city link by light rapid transit. said in a statement.
"Today, the community has expanded significantly while this infrastructure is no longer on the table, despite this investment."
BKaufmann@postmedia.com
Twitter: @BillKaufmannjrn