Calgarian Craig MacTavish said he is optimistic that underdog Canada will get a positive result against Belgium on Wednesday
Article content
Calgarians are basking in a flurry of festivities and optimism as they descend on Qatar ahead of Canada's first FIFA World Cup match in nearly four decades.
Brian Gervais has been in the Middle Eastern country for a few days, watching a number of matches and soaking up the atmosphere at the global sporting event. He said the event, which was fraught with controversy, had gone off without a hitch so far.
Article content
The tournament officially kicked off on Sunday, but all Canadian eyes will be on Wednesday, when Canada will play its first game at the tournament in 36 years.
"The mood among Canadian fans is very optimistic," said Gervais, reached while on his way to a game between Poland and Mexico. "This is a young man's tournament so far and we are a young team. A lot of Canadians are here from all over the country."
Article content
Before this year's tournament, Canada had not qualified for the finals since 1986 – exiting after going three games without scoring a goal. This year's team is headlined by talented young players, including Alphonso Davies, Johnathan David, Tajon Buchanan and Calgary's Sam Adekugbe, who ply their trade in some of Europe's biggest leagues.
Gervais said when he was at a British airport on his way to Qatar, he had to explain to people that Canadians were attending with a team to cheer for.
"Had to explain to many that we are in it. Once I went through the grid and where they play league play, (the Brits') reaction changed to 'those are pretty good players'," Gervais said.
Gervais said he was joining the post-game march with The Voyageurs, Canada's official supporters group. He said 2,000 Canadians are expected to join the march through Doha.
Article content
Calgarian Craig MacTavish, a member of the Voyageurs, arrived in Qatar on Tuesday. He said he was optimistic that underdog Canada would get a positive result against Belgium, who are ranked No. 2 in the world ahead of the tournament, on Wednesday.
"I feel very optimistic to hear that Phonsie (Alphonso Davies) is training at full speed, Lukaku is out and the slow Belgian backline," says MacTavish. "I think we can get our first goal and a result tomorrow."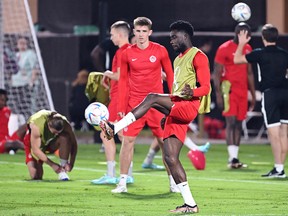 He said there were many Canadians on his transatlantic flight.
Calgary fans still on this side of the world will have a variety of viewing parties to watch the game at noon.
The Calgary Cavalry will host a viewing party at the Ship and Anchor Pub, where the Voyageurs are also scheduled to watch. The Deerfoot Inn and Casino is also scheduled to host a viewing party.
Article content
For future matches against Croatia and Morocco, there will be viewing parties at the Seven Chiefs Sportsplex and Kildares pub.
Mason Trafford, Calgary Cavalry FC player and former member of the national team, said he was proud to see Canada in the World Cup, calling the appearance massive. Former Cavalryman Joel Waterman has been named in the World Cup squad just a few years after the Canadian Premier League was launched.
"It feels a little surreal, like, I'm not sure what emotions are going to come out when I see the game tomorrow," Trafford said. "I just want to climb to the top of the tallest building in Calgary and shout to people like everywhere else that it only exists along the way. This level of football is played that produces this caliber of player."
Trafford said a contingent of Cavalry players and staff will watch Wednesday's game on 17th Avenue SW, and he hopes there will be a new sea of ​​red in the Beltline neighborhood.
dshort@postmedia.com