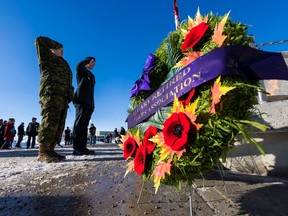 Article content
Calgarians braved freezing temperatures to take part in Remembrance Day ceremonies across the city on Friday, as proceedings were not hampered by collection restrictions for the first time in three years.
Article content
With the thermometer hovering around -5 C, the parking lot south of The Military Museums was packed, with Calgarians young and old wearing their poppies and watching various public figures make remarks commemorating sacrifices made by Canadians in armed conflict. Attendees also listened to poems, hymns and instruments that many have become accustomed to on November 11.
Article content
"It's important that we can do it again with such a large capacity without restrictions, that we can welcome so many people to the site, that we can still push military history to the fore and really talk about the sacrifices we make who we are today," said Jackie Jansen van Doorn, executive director of the Military Museum Foundation.
Article content
Among those who made speeches were Premier Danielle Smith, Ward 11 Coun. Kourtney Penner and Calgary Center MP Greg McLean.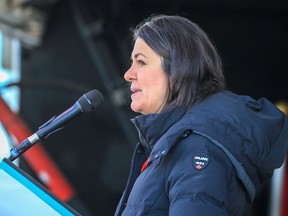 McLean stressed the importance of remembering Canadians' sacrifices amid the ongoing conflict in Ukraine, and being just over a year away from the Taliban retaking control of Afghanistan.
"This year war broke out between Ukraine and Russia, but the conflict had been going on for years," McLean said. "The world is clearly not the safe place we've counted on for so long, and the world still sees Canada as a beacon of hope."
Barbara O'Neil, a daughter and mother of veterans, attended the proceedings on Friday. She said the recent conflict makes it especially important to remember the sacrifices Canadian soldiers have made to ensure there is peace in our part of the world. She said it was particularly special to see a line-up of Calgarians attending the ceremonies this year.
Article content
"It was really nice to see how many young families were here with parents, with young children, not just seniors like me," said O'Neill.
Smith spoke at the ceremony and laid a wreath on behalf of the provincial government, noting the cost of Canada's democracy and freedom. She pointed to Master Cpl. Byron Greff, who was killed while serving in Afghanistan.
"More than 2.3 million Canadians have served throughout our country's history and sadly, more than 118,000 have made the ultimate sacrifice and never returned," said Smith. "These brave Canadians gave their lives so we could enjoy the freedoms we have today."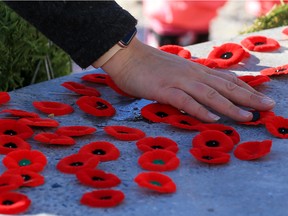 Smith also highlighted veterans who made it home but still suffered the effects of war in their daily lives.
Article content
Meanwhile, across the Bow River, hundreds gathered at the Field of Crosses on Memorial Drive, where more than 3,600 white markers recognize the southern Albertans killed in conflict. The ceremony highlights Canadians' sacrifice at Vimy Ridge and Dieppe, and including a military flying pass, poetry and songs led by members of the Cantare Children's Choir.
'Let us forget': Veterans remembered at Alberta legislature ceremony

Mysterious flag in center of Dieppe raid 80th anniversary commemoration on Remembrance Day

Documentary unravels story of Calgary serviceman and missing 'death tag'

'We will never forget the Canadians' — Veteran stories from the archives
Murray McCann, who founded the Field of Crosses in 2009, reads Canadian John McCrae's 1915 poem, In Flanders Fields, and was followed by Calgary Fire Chief Steve Dongworth, who led the commemoration. The names of soldiers who died in the battles at Vimy Ridge and Dieppe were read out during the ceremony.
Another ceremony was held outside Calgary's Hangar Museum, where executive director Brian Desjardins reflected on the conflict in Ukraine.
"It is really difficult to understand and even try to explain to my young daughters, the youngest generation, how there can be war in modern times," said Desjardins. "Let us all pray for an end to this war and peace for all involved."
Those gathered outside the Hangar Museum also heard from several veterans who shared their memories of fighting in various conflicts.
dshort@postmedia.com