Three UCP MPs, three NDP MPs and Calgary's police chief are among those approved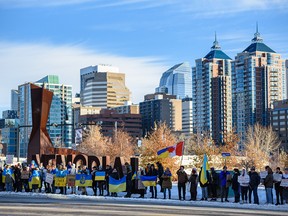 Article content
Several prominent Albertans are among the 200 Canadians recently barred from entering Russia, part of new sanctions announced Friday by the foreign ministry in Moscow.
Article content
The move is a direct response to sanctions imposed by Ottawa on Friday to freeze any Canadian assets held by 33 people and six entities allegedly "involved in gross and systematic human rights violations against Russian citizens who oppose the Russian regime protesting its illegal invasion of Ukraine."
Article content
Russia's foreign ministry said on its website that Canadians would be denied entry "on a reciprocal basis."
Three UCP MPs were named among those banned from entering Russia indefinitely: Justice Minister Tyler Shandro, Technology and Innovation Minister Nate Glubish and David Hanson.
Three members of the NDP opposition caucus — Sarah Hoffman, Deron Bilous and Lorne Dach — were also named.
Elsewhere on the list were Calgary Police Service chief Mark Neufeld and University of Calgary political science professor Ian Brodie, who previously served as former prime minister Stephen Harper's chief of staff.
Article content
In a Twitter post, Shandro rejoiced at his inclusion among those sanctioned.
"Honored to be endorsed by war criminal Vladimir Putin, who bombs schools and commits acts of terror against the innocent," Shandro tweeted.
Canada has imposed sanctions on more than 1,500 individuals and entities from Russia, Ukraine and Belarus since Russia's February 24 invasion.
Russia responded with hundreds of personal sanctions of its own in the intervening months, including on Prime Minister Justin Trudeau and former Alberta Premier Jason Kenney.
Ukrainians in Calgary show up for more help from Ottawa
Calgary's Ukrainian community is hosting a Sunday rally to call for greater federal government support for Ukraine's military effort.
Article content
The Calgary branch of the Ukrainian Canadian Congress meets at St. Vladimir's Ukrainian Orthodox Sobor for the march at 2 p.m. Sunday, urging Ottawa to provide Ukraine with weapons, including long-range artillery and tanks, as well as air defense systems to help their war effort. They also called on Canada to designate Russia a state sponsor of terrorism and to impose a full trade embargo on the country.
The calls come as Ukraine's military reports rocket, rocket and airstrikes in areas Moscow is trying to take after months of resistance, as Russia's war in Ukraine passes the nine-month mark.
"Unfortunately, the war is still going on," Gulnar Najafova, organizer of the rally, told Postmedia on Sunday.
"There are still many citizens in Ukraine, and people cannot work, cannot study. They are the family of people who fled… they are still suffering, and we are doing everything to unite and show our unity. It is not acceptable what is going on."
– With files from the Canadian Press
Canada sanctions dozens in Russia, Iran, Myanmar ahead of global Human Rights Day

More than 800 Ukrainian children enter schools, with more on the way

After fleeing Russian attacks, woman now helps other Ukrainians settle in Calgary
jherring@postmedia.com
Twitter: @jasonfherring