Of note, this was the first time a sitting premier of Alberta was expected to honor a former premier who is also the opposition leader in hopes of replacing her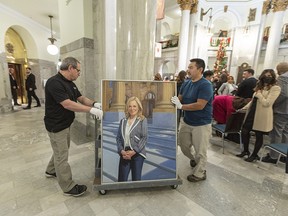 Article content
Sometimes the small symbolic things say more about the rampant hostility in our politics than the daily flood of words and actions.
Article content
Premier Danielle Smith was a no-show Thursday morning for the unveiling of an official legislative portrait of NDP leader Rachel Notley, commemorating her four years as premier.
Article content
Premiers always show their respect for past prime ministers at these matters. Notley herself did this three times when she was prime minister, unveiling portraits of former PC premiers Alison Redford, Dave Hancock and Jim Prentice.
This courtesy is observed across the country and in federal politics. There is a cheerful photo of former prime ministers Stephen Harper and Jean Chretien together at the unveiling of Chretien's portrait.
But shortly before 11 a.m. Thursday, word came that Smith would not be attending. Instead, she sent Nathan Neudorf, one of her deputy prime ministers.
Article content
It was widely seen as bullshit. These two party leaders do not hang out together. Their mutual disdain is palpable.
Of note, this was the first time a sitting premier of Alberta was expected to honor a former premier who is also the opposition leader in hopes of replacing her.
It is even possible that Notley will unveil a portrait of former Prime Minister Smith a few years from now.
The whole setup was kind of fraught, when you think about it.
But there are traditions that show that something important persists beyond the momentary heat of partisan rage. They provide assurance that it will all hold together in the end.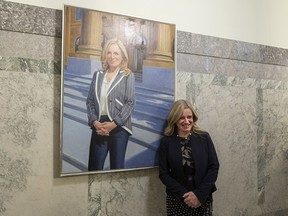 Notley was informed shortly before the ceremony that Smith was withdrawing. She was startled, but gracious about it.
Why didn't Smith show up? Her office issued a statement about 90 minutes later.
Article content
"Premier Smith had hoped to attend Rachel Notley's portrait unveiling ceremony. However, she attended an important meeting with the Kee Tas Kee Now Tribal Council and a caucus meeting. Deputy Prime Minister Nathan Neudorf joined the unveiling ceremony in her place."
Darts flew all over social media, some praising Smith and saying Notley wasn't worth her time anyway. Others noted that Donald Trump similarly disparaged Barack Obama.
But the sharpest came from Calgarian Les Stelmach, son of Ed Stelmach, who was PC premier from 2006 to 2011.
"There is precedent," Les said on Twitter. "She (Smith) jumped on my father's portrait unveiling. Ian Donovan represented Wildrose that day, and he had the best speech of the parties, IMO.
Article content
(Donovan was a Wildrose MLA and Smith was the leader at the time.)
Nelson: Smith could end up rivaling Notley as our most powerful prime minister

Braid: UCP softens the sovereignty act, but does not kill the controversy

Breakenridge: With Alberta's new premier, we're never sure what will develop next

Morton: Sovereignty Act shows Ottawa that Alberta will continue to fight for its rights
Whatever Smith's motives, it's clear that a smiling photo of her with Rachel Notley won't do her any good with the UCP base (and might not help Notley with her own).
The first PC prime minister, Peter Lougheed, spent years regretting the infamous photo of him clinking champagne glasses with Prime Minister Pierre Trudeau after they reached an oil price deal.
Article content
Portrait Day was also the first day after third reading of the Alberta Sovereignty Within a United Canada Act, which will not actually have the force of law until it is proclaimed.
But Notley said the government should immediately refer it to the Alberta Court of Appeal for a ruling on whether it is constitutional.
Notley says the so-called "Henry VIII clause," which has now been removed, and the ultra-broad scope of grievances against Ottawa, which was significantly watered down in the final version, were never the big issues.
The biggest problem, she insists, is that the bill gives the legislature the ability to vote on whether federal laws and actions are constitutional.
That's the job of the courts, not lawmakers, Notley says.
"But now they have the legislature stepping in and pretending it's a court. . . and abolishing the rule of law."
She also feels that First Nations have a strong case to formally challenge the law.
Most indigenous rights "manifest through federal law, and this government has just given itself the ability to override federal law. In doing so, it requires a direct assault on treaty rights.
Maybe it's not so bad that she and Smith didn't appear together. It might not have been a pretty picture.
Don Braid's column appears regularly in the Herald
Twitter: @DonBraid