Dr. John Cowell is the new official administrator of AHS, a role he held once before in 2014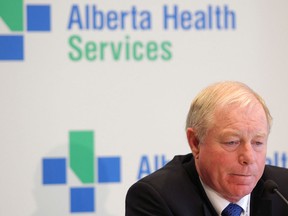 Article content
Dr. John Cowell had a bad fall on February 16 and broke a bone in his knee joint. He quickly got a close look at the EMS and acute care systems that he now has enormous power to change and, hopefully, improve.
Article content
Cowell is the new official administrator of AHS, a role he also held once before in 2014.
Article content
"I was laying there in the mud and a good Samaritan called EMS," he says. "The ambulance didn't arrive that quickly."
Then he went through all the ordeals familiar to thousands of Albertans – waiting to be transferred from the ambulance to the hospital, waiting again to be seen, waiting for a bed, waiting to be treated, waiting, waiting.
"It focuses the mind," he said. "I gained additional perspective on what needs to be done."
Cowell hardly needed the lesson. The former head of the Health Quality Council – the agency that investigates health care systems and problems – he has been involved in major inquiries into intimidation of doctors and alleged privileged access to health care.
Article content
I've had a lot of admiration for Cowell over the years. He told politicians what they needed to hear and fearlessly delved into dark corners and special interests of health care. From what I know of him, he would refuse any political order that he believed would harm health care or patients.
Asked if he would now just be a conduit for orders from Health Secretary Jason Copping or Premier Danielle Smith, Cowell said: 'That's not the case at all. What the official administrator is obliged to do is to remain focused on the priority items determined by the government to improve and change in this time of crisis and urgency."
Braid: Hinshaw is out, Smith names mainstream AHS doc as CMOH

'Don't throw them overboard': Former top doctor warns PM over AHS overhaul

Braid: Premier Smith promises quick relief for healthcare ills and inflation
He also has a say in finance and personnel decisions. But the immediate focus is on EMS, emergency room logjams and surgical wait times.
Article content
Cowell will also quickly look at major changes in the management layer of AHS – one of Smith's campaign promises.
"Pak 1 for me is to evaluate the executive leadership," says Cowell. "Are the jobs they do appropriate?
"And, yes, I am absolutely the one who has the power and the authority to make those changes. This is part of my mandate."
At the same time, Cowell had high praise for Mauro Chies, the interim CEO of AHS, and feels they can work together even if Cowell leads the search for a permanent CEO.
Cowell had barely stepped down from the Health Quality Board in 2013 when he was called upon to administer the entire system after then health minister Fred Horne sacked the board over an executive pay dispute.
There were other, deeper problems, but nothing like the crises in EMS, emergency care and surgery waiting to face him on his second run at this job.
Article content
"I know what can be done and must be done," he says. "The big trick is to get it done. It is a question of properly matching human resources – which is of course also a problem – with the available facilities.
"We know what tools we need. What I will look at are the problems that prevent these known solutions from being properly implemented.
"There are known blocks, and there are known ways we can get around them. I am more and more optimistic."
Why is an administrator even necessary? Cowell feels this is a moment when a board, debating every issue, should be temporarily replaced by a single person with authority to act immediately.
"What this does is stop the discussion and endless re-evaluation. It gets the system from its heels to its toes and moves again. We have to see through the lens what our citizens need and we have to act on it."
"I'm not going to do things so quickly that I make the wrong call . . . but we have to get things going because we can't stay in the status quo.
"I will make decisions. Stay tuned."
Albertans certainly will. They will be eager to know if nice words finally bring results.
Don Braid's column appears regularly in the Calgary Herald.
Twitter: @DonBraid