Dr. Mark Joffe is an admired figure at AHS. Albertans can also rest assured that he is not denying medical science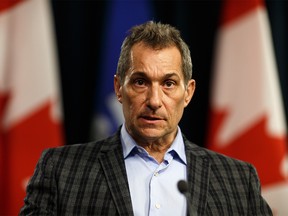 Article content
Dr. Deena Hinshaw was replaced as chief medical officer of health late Monday afternoon. The new CMOH is dr. Mark Joffe, a top AHS executive who played a key role in the province's pandemic response.
Article content
Joffe is an admired figure at AHS. Albertans can also rest assured that he is not denying medical science.
Article content
In October 2021, Joffe wrote an opinion piece for the Herald saying ivermectin was not an effective treatment for COVID. Accusations that AHS was withholding this from the public were unfair, he argued.
"There are genuine concerns about fraudulent data being reported from some of the early trials, and the largest trial supporting ivermectin use has already been withdrawn due to data fraud," Joffe wrote with two other experts.
Premier Danielle Smith, of course, openly advocated ivermectin and said AHS was suppressing information about alternative treatments.
The dissonance here is striking. There was understandable fear that Smith would name a quack in the key CMOH post. Joffe is anything but. His appointment suggests that Smith wants to leave certain tracks from her radio career far behind.
Article content
In fact, this is the first obvious sign of a pre-election pivot to the mainstream. She also disagreed with questions yesterday about her link to controversial figure Paul Alexander, saying she did not invite him to Alberta.
What's next for Dr. Hinshaw is not known. Details of her departure were still being worked out on Monday afternoon.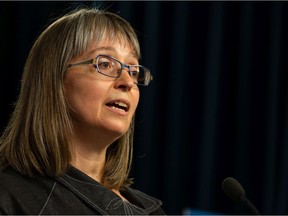 The first question facing the new CMOH is – who decides? Do you issue public health orders, or will the province finally admit the obvious – politicians do?
Smith also referred several times to more big changes in health care later in the week. This means that a sole commissioner of health care will be appointed.
The currently appointed board may not actually be fired, only suspended, but the new commissioner will nevertheless have all the legal authority of the full board. The point of it is to move quickly with Smith's health reforms in AHS.
Article content
Smith has repeatedly promised health executives compensation for the move, which was last used in 2014 on a much smaller issue.
"It's going to be a little bumpy for the next 90 days," Smith said in a recent speech to the Edmonton Chamber of Commerce.
"I know it's dangerous to try to reform an area this big so close to an election, but we have to do it."
Premier Smith refuses to recommend masking amid high absenteeism rates in Alberta schools

'Don't throw them overboard': Former Alberta health chief warns premier on AHS overhaul

Alberta Health Services: Ivermectin is a helpful drug but not a treatment for COVID-19
At some point, AHS (which means the commissioner) will also have to name a new chief executive officer to finally replace dr. To replace Verna Yiu, who was fired on April 4.
Article content
Dr. Mauro Chies has been transferred to that role on an interim basis. He is another veteran from the top tier of AHS.
Can Smith keep him as full-time AHS boss, too? That seems unlikely, given her frequent talk of cutting the executive ranks. But the Joffe decision may indicate that she feels the best people to reform the system are already there.
AHS will take orders from her appointed commissioner, no doubt from her, and the commissioner will be accountable to the government.
All of this points to major changes elsewhere in the AHS management layer. It will soon be smaller, even though the UCP's own study in 2019 showed that the management contingent at AHS is not inflated, although it could be more efficient.
Smith is acting quickly on these changes (she has only been prime minister since October 11) to get the public uproar out of the way quickly.
After that, the goal is to get public attention for changes on the ground, especially in EMS and emergency rooms.
Overall, these moves are an obvious political takeover of the quasi-independent healthcare system. This has also been done before. Over time, it didn't work.
The question for the public is – will health care reform finally work?
Don Braid's column appears regularly in the Herald
Twitter: @DonBraid