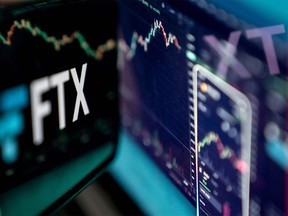 Article content
Bitvo has exited its deal with FTX that would have seen the former global cryptocurrency platform purchase the Calgary-based company.
Article content
FTX shocked the crypto world on Friday when it filed for bankruptcy following a sale of its crypto token FTT.
Article content
FTX announced in June that it had reached an agreement to buy Bitvo, one of the few Canadian cryptocurrency trading platforms that met the standards of securities exchanges. The deal was suspended in the regulatory process until Tuesday morning.
Article content
"I think it's great to have the clarity to the market and for people to see that," said Pamela Draper, president and CEO of Bitvo. "Given the uncertainty that is going on with the FTX Group of Companies, we like to distance ourselves a bit from them."
Draper said her company will now take time to reevaluate how they move forward and whether they will try to merge or partner with another larger platform.
Article content
FTX initially sought to buy Bitvo because of their level of regulatory compliance and the foothold it would give them in the Canadian market. However, FTX was largely non-compliant with Canadian regulations on investment and liquidity of capital.
Chief rival Binance pulled out of a possible bailout of FTX last week after looking at the books and selling $580 million worth of FTT, triggering a much larger selloff of the cryptocurrency.
Article content
Calgary-based Bitvo talks strength of regulations following FTX collapse

Tom Brady, Shohei Ohtani among the biggest losers in FTX collapse
Draper said the regulations in place for Canadian-based platforms should give investors confidence, the problem is that other global platforms can gain access here as well.
"I think that Canadians need to be aware of the choice and be aware of the benefits of regulated versus unregulated in terms of security," she said. "I also think there should be more enforcement on platforms that are not registered and that do not meet the same standards as us."
jaldrich@postmedia.com
Twitter: @JoshAldrich03