Article content
Former Calgary basketball coach Sean Maheu denied allegations Thursday that he groomed a teenager in the city before sexually abusing him.
Article content
Under cross-examination by Crown prosecutor Rose Greenwood, Maheu insisted he was never alone with the teenager in the coach's southwest Calgary home.
Article content
The now 20-year-old complainant said he was sexually assaulted four or five times in Maheu's bedroom while visiting the coach's residence.
In a videotaped interview with sex crimes Det. Trish Allen, the witness said he was verbally and anally violated by Maheu.
But Maheu testified that no such contact took place.
Greenwood suggested otherwise.
"The truth is that you groomed him with attention and gifts and you took advantage of that trust and sexually abused him multiple times in your home," Greenwood charged.
"No," said Maheu.
"You saw an opportunity with him," Greenwood said.
Article content
"No," the accused persisted.
Maheu (40) faces four sex-related charges involving allegations that he abused the teenager when the complainant was 14 and 15 years old.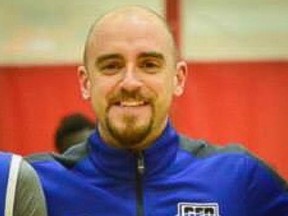 The former coach said he never accepted a father figure role for the teenager.
"You took him under your wing," Greenwood suggested.
"No, I wouldn't say I took him under my wing," Maheu said.
The prosecutor noted the complainant testified that he considered his coach a father figure.
"I don't know what he's thinking," said the accused.
He said his treatment of the complainant was similar to the work he has done with other players he has coached.
"I wouldn't say it was any different than any of the other kids I've helped."
Maheu denied being close to the teenager.
"We'll barely talk," he said.
Article content
"So you're saying you weren't particularly close?"
"Yes," said Maheu.
Former basketball coach says allegations of sexual abuse made by ex-player are false

Drugs, alcohol were a way to deal with sexual abuse by coach, a witness testifies

Basketball coach 'courted' teenager before sexually abusing him, Calgary court heard

Calgary police file new sexual assault charges against youth worker

Former basketball coach is accused of sexually assaulting a 14-year-old player
While Maheu maintained that he was never alone with the complainant in the coach's home, Greenwood noted that the teenager's family's former nanny testified otherwise.
The woman gave evidence on Monday that when the complainant's mother considered renting Maheu's basement suite, the teenager and his siblings were at home before the babysitter left with the other children, and the accused and his accuser left alone.
"She puts you alone in your house," Greenwood said.
"I just don't remember (it)," said Maheu.
He said the only time the complainant was at his residence was when his entire family, including his mother, came to view the basement suite and stayed for an hour at most.
His trial is expected to conclude on Friday.
KMartin@postmedia.com
On Twitter: @KMartinCourts