Article content
Former Calgary basketball coach Sean Maheu said Wednesday that allegations that he repeatedly sexually assaulted a teenage player in his southwest home are completely false.
Article content
In fact, Maheu told defense lawyer Matt Deshaye, the complainant was only in his house once and that was in the presence of the boy's mother.
Article content
Deshaye contested the statement, arguing it was unreliable because it was more than three years after the witness said he was sexually assaulted.
Maheu denied suggestions by the complainant that he allowed the teenager to sleep over at his house and showered him with gifts, cash and rides to various places.
He said the only clothes he ever gave the teenager were a bag of hand-me-downs and rejected the complainant's claim that he gave him five or six pairs of basketball shoes.
"I lend shoes to kids from time to time," said Maheu, who had a collection of 30 to 40 basketball sneakers.
"Have you ever given money to children?" Deshaye asked.
"No," said Maheu.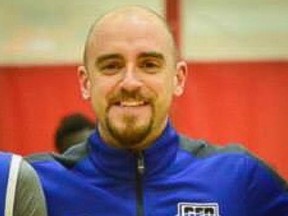 The defendant said the only time his accuser was ever in his home was when the teenager's family came to look at his basement suite to determine if they wanted to rent it.
He said he never heard back from them and they never moved in.
"I remember that he was there once," he testified.
"I offered (his mother) to come look at the house," he said.
"They were there for a short time, half an hour or an hour."
"Did (the complainant) ever spend the night with you?" asked the lawyer.
"No," said Maheu.
In his statement and testimony, the complainant, now 20, said he was repeatedly violated orally and anally by the accused.
Greenwood will cross-examine Maheu about his testimony on Thursday.
KMartin@postmedia.com
On Twitter: @KMartinCourts