However, Calgarians are not out of the woods yet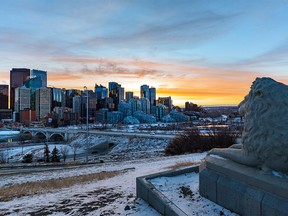 Article content
Another month, another rate hike by the Bank of Canada – but the end may be in sight for this cycle of hikes.
Article content
Trevor Tombe, an economist at the University of Calgary, said he was encouraged by the central bank's language, which appeared to be shifting to a wait-and-see approach after announcing a 50-basis-point hike to its overnight target on Wednesday has. This brings the rate to 4.25 percent, the highest it has been since January 2008.
Article content
"This is about where many, myself included, expect rates to peak," he said. "Perhaps there is a little more, which brings us to four and a half in January. But I think the end is, if not here now, very near."
Reinforcing this mentality is month-on-month inflation that has stagnated since the summer, both provincially and nationally, despite a high year-on-year rate fueled by a rapid rise in the cost of living index in the first half of 2022.
Article content
While items such as food continue to rise, many other basket items have expanded.
However, Calgarians are not out of the woods yet.
The province announced legislation on Wednesday to deliver the promised inflation relief that Premier Danielle Smith announced two weeks ago. These include an extension of the full removal of the provincial gas tax, an extension to electricity rebates, and targeted relief payments to seniors and families in households earning less than $180,000 a year and those on AISH, PDD and income supports. There will also be a re-indexation of income tax, AISH, PDD and income support to inflation retroactive to 2022.
Article content
The $2.8 billion package is based on a three-year rollout with some of the expanded programs already in place, while others are expected to begin in the new year.
Article content
Affordability and Utilities Minister Matt Jones said the package is being delivered when Albertans need it most, despite inflation already starting to slow.
"I certainly hope that inflation and the cost of living will not continue to rise, but I know that Albertans will continue to face high food prices, high fuel prices, high electricity prices in the coming months," he said.
Spotlight on real estate sector
The real estate sector was the primary focus of the interest rate hikes.
Frances Dares, a real estate broker for Urban Upgrade & Newinfills in Calgary, said it's still a seller's market here, bolstered by a lack of supply and an influx of migration to the city from across the country.
Most single-detached homes sell almost overnight with multiple offers and there is still stiff competition for entry-level townhouses and apartments. This is the top end of the market where there has been a cooling effect.
Article content
She said most people who bought in the past year before interest rates shot up were prepared for the increases and locked in a fixed rate. However, with the higher rates, they're seeing more people roll the dice on a variable mortgage, banking on interest rates falling over the course of the next five years instead of locking in the highest rates Canada has seen in 15 years has. .
It's not a path she recommends for everyone.
"I would say that would be a bet that I would be comfortable making if I was OK with the risk of rates going up further," she said. "What we don't know is just how high it can get or how long they will stay high."
Canadians still hit hard
A poll conducted Monday by the Angus Reid Institute showed half of Canadians were worse off financially this year than last, despite the start of the pandemic recovery, including 55 per cent of Albertans.
Article content
As the holiday shopping season approaches, the poll showed 64 per cent of Canadians have cut back on discretionary spending and 56 per cent would spend less on Christmas preparations.
Donna Carson, an insolvency agent for MNP in Calgary, said the two demographics they see the most are those who rent and those between the ages of 20 and 35. There is usually less stability in those groups, and an increase in Interest rates hit their bottom line hard, especially when people rely on lines of credit and credit cards.
Her recommendation is that people don't put their necessary expenses like food and rent on a credit card as the cost snowballs from month to month and the interest rate makes it unaffordable to pay off.
Bank of Canada raises rates by 50 basis points, says hikes may be over

Mortgage rates rise higher after latest rate hike, but end of hike cycle in sight

Why handing out cash to help people manage inflation only makes it worse

Alberta Premier Danielle Smith promises $600 per child fuel tax relief to fight inflation
Insolvencies are on the rise again in Alberta after falling from record rates in 2019 for the past two years. She said they are now seeing about 1,250 insolvencies a month, down from 1,400 in the last year before the pandemic.
The issue was compounded by 275 of the 400 basis point increase that has occurred since July.
Carson said it's a combination of people carrying more debt heading into the pandemic, with job losses or reduced income, along with inflation and higher interest rates that have led to this situation.
"These low interest rates that we had for so many years were part of the glue that held some of the budgets together," she said. "Now we're seeing people for whom those budgets just got even tighter with these increases."
jaldrich@postmedia.com
Twitter: @JoshAldrich03