Article content
Calgary police have someone in custody after a man destroyed property and threatened the safety of employees and customers at a CIBC bank on 17th Avenue SW.
Article content
Officers went to the CIBC branch at 1222 17th Ave at 9:40 a.m. Friday. SW called for reports of a man causing a disturbance, destroying property and making vulgar comments, CPS Staff Sgt. Becky Spohr told reporters.
Article content
"He continued to escalate and made some threats to the patrons and employees of the bank, and made a statement suggesting he could go to his vehicle and get a gun," Spohr said.
The customers and employees either evacuated the building or isolated themselves inside the bank when the man left. It is currently unknown if the man grabbed anything from his vehicle, but he returned, Spohr said.
"Finally we were able to talk him out of the bank and safely arrest him."
No injuries were reported following the incident. Spohr said there were seven employees in the bank who managed to secure themselves in a locked room inside the bank and maintained contact with the police. Money was not involved in the situation.
Article content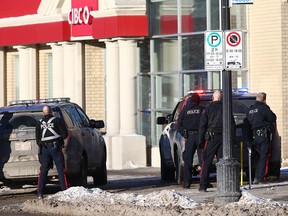 No details about the man were available as of Friday afternoon, but Spohr estimated his age at 25 to 30.
Calgary police responded with a tactical unit due to the possibility that the man was armed. Spohr said it is considered a high-risk situation because of that threat and because there are still people in the bank.
"Some of the police would have drawn their firearms. That's how we have to deploy this type of situation," Spohr said.
Spohr said the man's mental health may have been a factor in this situation.
The CPS victim's assistance unit was engaged for employees at the bank.
— With files from Jim Wells
sbabych@postmedia.com