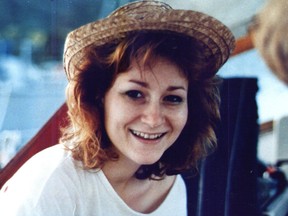 Article content
The man who killed Banff taxi driver Lucie Turmel in 1990 is going back to prison after more than 10 years out on parole.
Article content
The Parole Board of Canada revoked Ryan Jason Love's full parole at a November hearing, citing a series of recent events that led board members to believe his "risk to the community has become unmanageable."
Article content
"Your index offense is extremely violent and resulted in the death of an innocent victim. This crime was committed more than 30 years ago, but shows a capacity for extreme unprovoked volatility," said a written decision of the parole board dated November 9.
Love (51) was 18 when he stabbed 23-year-old Turmel 17 times and killed her for her night's earnings on May 17, 1990. He got away with less than $130.
Love was convicted of second-degree murder in June 1994 and received a life sentence with no possibility of parole for 20 years. However, he was eventually granted day parole in 2011 and moved to full parole in 2012.
Article content
Until 2019, the parole board said there were no concerns about Love's compliance with his parole conditions. But in 2020, he entered into a relationship that his family and parole officer described as "negative and unhealthy" and involved ongoing "domestic turbulence," according to the parole board.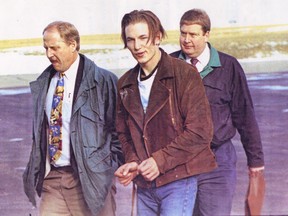 Love was charged with disorderly conduct in January 2021 for smashing several windows on the woman's vehicle with a baseball bat. He was found guilty and served 30 days in jail.
The parole board reprimanded him and ordered him to go to counseling and report any relationships with women, but did not revoke his parole.
On August 22 of this year, Love was pulled over in a "high-risk downtown" area of ​​an unidentified city with an intoxicated woman in his car. While the police let him go on the side of the road after a breath test, he was later questioned by his parole officer.
Article content
Love later admitted to the parole board that he had lied to the officer about the nature of the incident.
His story about the woman — and an "acquaintance" he initially claimed asked him to pick up the woman — changed several times during interviews with his parole officer. His cell phone records indicated he had a closer relationship with the man than he had indicated.
"You said you lied about this because you knew he was a negative partner," the parole board's decision read. The relationship broke the terms of his parole.
"Your (case management team) found that with your deteriorating performance under supervision and dishonesty, your risk escalated and became unmanageable. Warrants have been issued for your detention and suspension."
Article content
The board revoked Love's full parole, noting that he had "returned to (his) crime cycle" and violated several conditions of his parole related to the August 22 event and his subsequent lies.
The parole board also considered his long period of compliance with his parole conditions as mitigating factors, as well as letters of support from his employer, a co-worker and a farmer who knows him. It also noted that he had recently started taking prescription medication for anxiety and depression and plans to live with his parents if he is released again.
mrodriguez@postmedia.com
Twitter: @michaelrdrguez