'It's an early and bad season. It's really noticeable because it's a lot more than we're used to, in general and so early.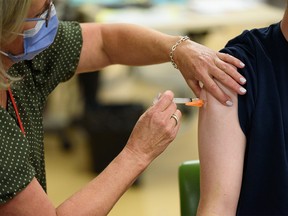 Article content
Hundreds of Albertans have been hospitalized with the flu and 12 have died from the infection since flu season kicked off last month as viral spread accelerates.
Article content
Alberta Health data released Thursday showed 1,566 new laboratory-confirmed flu cases were reported in the week ending Nov. 19. There have now been 3,648 cases this season, as well as 550 hospitalizations and 52 admissions to intensive care units.
Article content
The 12 flu deaths this year include six newly reported Thursday. The deaths include two children – one aged one to four and one aged five to nine – and seven Albertans aged 70 or older.
These numbers represent an aggressive start to the flu season in Alberta, after two years during the COVID-19 pandemic in which the spread of the respiratory infection decreased significantly.
"It's an early and tough season. It's really striking because it's a lot more than we're used to, in general and so early," said Dr. James Dickinson told Postmedia. He is a professor at the University of Calgary Cumming School of Medicine who manages the Alberta Community Influenza Surveillance Program.
Article content
He said the dominant flu strain is influenza A H3N2, which also caused a late surge in cases last season.
"It's a pickup from what we saw in the early summer, the same virus. It disappeared over the summer, and now it's back with a vengeance."
There are also some cases of influenza A H1N1, a strain that Dickinson said is more likely to cause serious illness, including hospitalizations.
He predicted that the current H3N2 strain will peak within the next few weeks, but a second peak could occur later in the season, around the holidays, with the H1N1 virus.
"Prediction is often difficult, but my thought would be that it is likely to happen," Dickinson said.
Four-year-old child among first reported flu deaths in Alberta

'Take simple, daily actions to help prevent the spread': Alberta's new CMOH on respiratory diseases

Alberta Children's Hospital, hit by rising respiratory illnesses, wants to expand ER capacity

'Flu is here': Flu shots open to Albertans as virus begins to spread

After two mild years, Alberta could face a serious flu season
Albertans have been slow to take up flu shots this year.
Article content
As of November 19, 20.5 per cent of Albertans had been immunized against the flu so far this year. In comparison, 27 percent of Albertans rolled up their sleeves for the shot over the 2021–22 season, and 37 percent did the same in 2020–21, which stands as Alberta's highest rate ever.
Alberta's new Chief Medical Officer of Health, Dr. Mark Joffe, urged parents to immunize their children against the flu in an email shared by school boards Wednesday. All children six months and older are eligible for the shot; those under five can book shots at Alberta Health Services clinics online or by calling 811, while older children can get their vaccine at a pharmacy or doctor's office.
He said there had been a large increase in "cough and fever-type illness" in schools over recent weeks, and said that while most children who get the flu recover without complications, some become very ill and require hospital treatment.
Article content
"We are concerned that this flu season will be worse than we have seen in years, and that illness will continue to disrupt school, sports and upcoming holiday gatherings," Joffe said.
Joffe also encouraged mask use, especially in crowded indoor environments.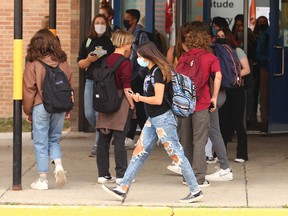 Vaccination rates are significantly higher among seniors in Alberta, with 57 per cent of those aged 65 and over having received their shot.
Dickinson noted that a special vaccine formulation is available for seniors that contains a higher antigen dose, intended to provide additional protection for the high-risk group.
The disruptive effect of respiratory illnesses circulating widely in the community — a combination of the flu, respiratory syncytial virus (RSV) and COVID-19 — should provide motivation for Albertans to get immunized, he said.
"It should be a message that it's not a nice thing to have, and it would be much nicer to either prevent or reduce it. Vaccines reduce the likelihood of getting it, but they also reduce the intensity if you do get it. Your chance of going to the hospital is reduced," Dickinson said.
"It seems like a good idea to me."
jherring@postmedia.com
Twitter: @jasonfherring