Article content
Aster, an eight-year-old mixed breed dog, found her forever home this weekend after spending nearly 500 days in the shelter system.
Article content
The loyal and cuddly puppy was surrendered to the shelter in July 2021 because her previous owners did not have adequate housing for her. She gets stressed around other dogs, so she spent most of her time with a foster parent, which limited her time to meet potential new families, according to humane society staff.
Aster was adopted on Saturday by James Campbell and his partner, Chantel, who said they were happy to have Aster as part of their family.
While her stay in the shelter system was not the longest tenure the Calgary Humane Society has seen, Aster has been there much longer than the other adoptable puppies currently there. Staff described her as a gentle giant and said they were delighted she had found a good home.
Article content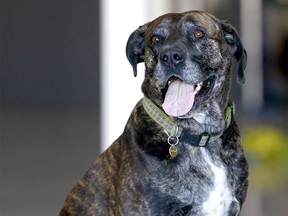 The Calgary Humane Society hopes that people inspired by Aster's adoption will sign up to be foster parents and temporarily welcome one of the many shelter animals into their homes. Annually, around 1,100 animals are cared for through the foster program, which helps the animals become more adoptable and gives them a second chance to find happy homes.
The association is actively recruiting foster parents and hopes to get as many of their animals into homes as possible, temporarily or permanently, during the holidays.
The application to apply for foster animals is on the humane society's website.
sbabych@postmedia.com