'This is a special moment in time. It's been building up to this moment for two years now and it's been an emotional ride'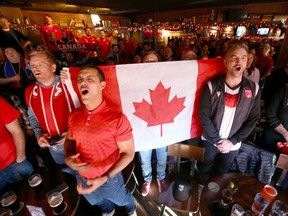 Article content
Calgarians descended on 17th Avenue SW on Wednesday to create a new sea of ​​red as Canada's men's team played its first game at a FIFA World Cup in 36 years.
Article content
Dozens of people lined up outside the Ship and Anchor bar before the doors opened at 8 a.m. to ensure they would have the best seats in the house, well before Canada's noon kick-off for the game against Belgium.
Article content
draped in red and white an hour before the game, Michael Chomik and Tyler Loewenhardt sat front and center at the main screen.
"This is a special moment in time," Chomik said. "It's been building up to this moment for two years now, and it's been an emotional ride."
Canada last qualified for the tournament in 1986.
Since then there have been a string of disappointments for the national team. But led by a team of young, talented players, the team ended up finishing first in the North and Central America region to qualify for this year's tournament.
Article content
Canada was cheered on Wednesday from Alberta's largest city as boisterous crowds packed local bars, chanting and chanting before and during the game. At the Ship, one of the loudest cheers of the morning went up when a Canadian flag was hung next to the big screen.
Megan DeVetten said she has been following the team for more than a year as a member of The Voyageurs, a fan group. On Wednesday, she watched the team with a Canadian flag painted on her face.
"People of all ages and all different backgrounds can come together and celebrate something and that's just so great for Canada," DeVetten said. "It's great to see Canada doing so well and, yes, hopefully today is another great day."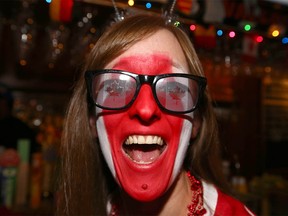 Despite controlling the game for much of the first half, Canada trailed by a goal at the half. However, fans at the Rose and Crown on 4th Street SW were not discouraged. Brett Rook said the first half was encouraging and he believes Canada's speed will allow them to tie the game and take the lead in the final 45 minutes.
Article content
"When you look at Belgium being one of the top teams in the world and Canada being relatively unknown, I think it would have been very easy to be like, yes, Belgium will dominate the game, but I think we have a very, very strong first half," said Rook.
Rook said he believes Canada's performance would have surprised viewers around the world who did not follow Canada's men's team.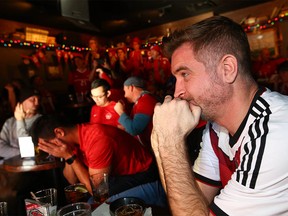 Doug Kipta, dressed in a Santa suit and red wig, said confidently that Canada would eventually win the game, and went a step further, boasting that Canada would go on to win the entire tournament.
"Canada is going to win the World Cup and I'm going to win $11,000," says Kipta.
Kipta's prediction did not come true as the local favorites lost 1-0 to Belgium in a tight affair.
Article content
Canada is not going back in a narrow defeat to Belgium in the World Cup comeback

Calgarians in Qatar are riding a wave of optimism ahead of Canada's first World Cup game

Pubs are gearing up for early morning World Cup matches, although staff are stretched thin

Calgary's Sam Adekugbe key cog in Canada's 'Brotherhood' at World Cup
Despite the loss, Canada's fans remained positive after the final whistle. Matthew Renz called the match incredible and said the performance would have surprised football fans around the world.
"They played fearlessly, they showed up and made everyone proud. Unfortunately we didn't have our shooting boots but everything else, what more could you ask for," said Renz.
Canada next plays Croatia on Sunday before facing Morocco on December 1.
dshort@postmedia.com