Article content
More than 3,600 underprivileged children received toys from Santa courtesy of Calgary firefighters at the group's annual holiday party.
Article content
This is the first time the decades-long tradition has taken place in person since 2019, after the COVID-19 pandemic moved the event to a ride last year and canceled it entirely in 2020.
Article content
Returning to full swing was gratifying, said Mark Hagel, president of the Calgary Firefighters Toy Association.
"It was a wonderful day. We have families enjoying themselves, we have a lot of entertainment, face painters, things like that, and now we have kids getting presents from Santa," Hagel said.
"I think it's something that all the firefighters missed, to see the children's faces and to be able to say goodbye to the families."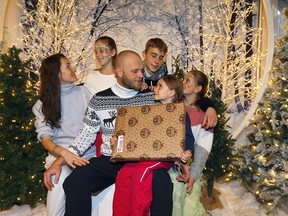 The firefighters' annual Children's Christmas Party is in its 55th year, having started in 1967. It typically took place at the Stampede Corral, but that building's demolition moved the bash to the Telus Convention Center this year.
Article content
Hagel said about 2,200 families attended Sunday's event, with organizers handing out nearly 4,000 gifts, each donated by the community and sponsors and wrapped by volunteers.
The participants are identified by school boards and social service agencies, who pass on contact information to city firefighters so they can extend invitations to vulnerable families.
"We regularly get most of our donations to our toy bins," Hagel said, noting that they are set up at city fire halls, Market Mall and Canadian Tire and Toys R Us stores.
"That's really one of the great machines of this party, the generosity of the citizens of Calgary."
Adopt-a-Family sees the greatest need yet as Calgary families struggle through the holidays

Rising costs are hurting food budgets for hungry families and for those who help feed them

Agencies help Calgarians escape 'shadow pandemic' of domestic violence and abuse

Mental health and addiction issues remain serious problems in Calgary

Firefighters work with Santa to deliver toys to Calgary children
jherring@postmedia.com
Twitter: @jasonfherring