The North Haven Community Association says they will not meet with Coun. Sean Chu over allegations of sexual misconduct while a city police officer in the 1990s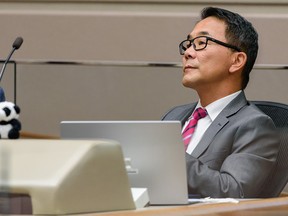 Article content
A northwest Calgary community association says it wants nothing to do with Coun. Sean Chu and insists that he be held "accountable" by the province.
Article content
The leader of at least one other community group will consider a similar approach.
Article content
In an open letter posted on its website Sunday and addressed to Premier Danielle Smith and Chu, the CEO of the North Haven Community Association says it will not meet with its Ward 4 city councilor because of his misconduct as a city ​​police officer in the 1990s and recent revelations that he took a widely shared photo of Mayor Jyoti Gondek's license plate in a secure parkade.
"Our directors and volunteers adhere to our Abuse Prevention Protocol. According to this policy, we believe in providing a safe and harassment-free community association," reads the letter, signed by association president Jody Breen and vice president Alex MacKinnon.
"In light of his continued behavior, we feel Councilor Sean Chu should not attend or participate in our community events or meetings. This behavior is not representative of, or welcome at, events or meetings hosted by the North Haven Community Association."
Article content
It also expresses support for the province's investigation of the Calgary Police Commission's review of a Calgary police service investigation into Chu's conduct in the late 1990s.
"We expect that the conclusion of your review will ensure that Councilor Chu is held accountable for his actions," the letter said.
"His actions, both recent and past, have consistently demonstrated an abuse of power that is in direct conflict with the standards of integrity and ethical behavior expected of our elected government officials."
Breakenridge: Humiliating Calgary City Councilor Chu should do us all a favor and stop

Chu reached 'informal resolution' with ethics office after sharing license plate photos: City

Province orders new review of allegations of sexual assault against count. Sean Chu
Media reports emerging just before Election Day in October 2021 revealed that Chu, councilor for Ward 4, was reprimanded for inappropriate physical contact with a 16-year-old girl in 1997 while he was a police officer.
Article content
At the time, Chu was found guilty of discreditable conduct under the Police Act, but was never criminally charged.
The councilor also agreed to give up his post as deputy mayor next month after it was learned that he was to chair the December 6 council meeting, which would have seen him recognize the National Day of Remembrance and Action on December 6. Violence Against women.
At the same time, Chu admitted he took a photo of the license plate of Gondek, whose home was picketed by political opponents.
Gondek – who insists her personal safety was compromised by those actions – did not accept Chu's apology and said she wanted him off the city council.
A year ago, City Council members voted to keep Chu off committees, but have since reversed that stance.
Article content
Ric McIver, who was minister of municipal affairs at the time, received a legal opinion in November last year that the province did not have the power to remove Chu from his democratically elected post, especially for matters that happened before he was elected.
What has changed since then is the Calgary Police Commission's review of the file, which found that police made mistakes during the handover of the sexual assault investigation against the ward 4 councilor when he was a member of the Calgary Police Service.
On Monday, the president of the Brentwood Community Association, which is also in Chu's Ward 4, said her board would discuss the action similar to that of her North Haven peers.
"It is not discussed. Our board meeting is tomorrow night, and I will bring the subject up," Bonita McCurry said in an email.
Chu did not respond to a request for comment Monday.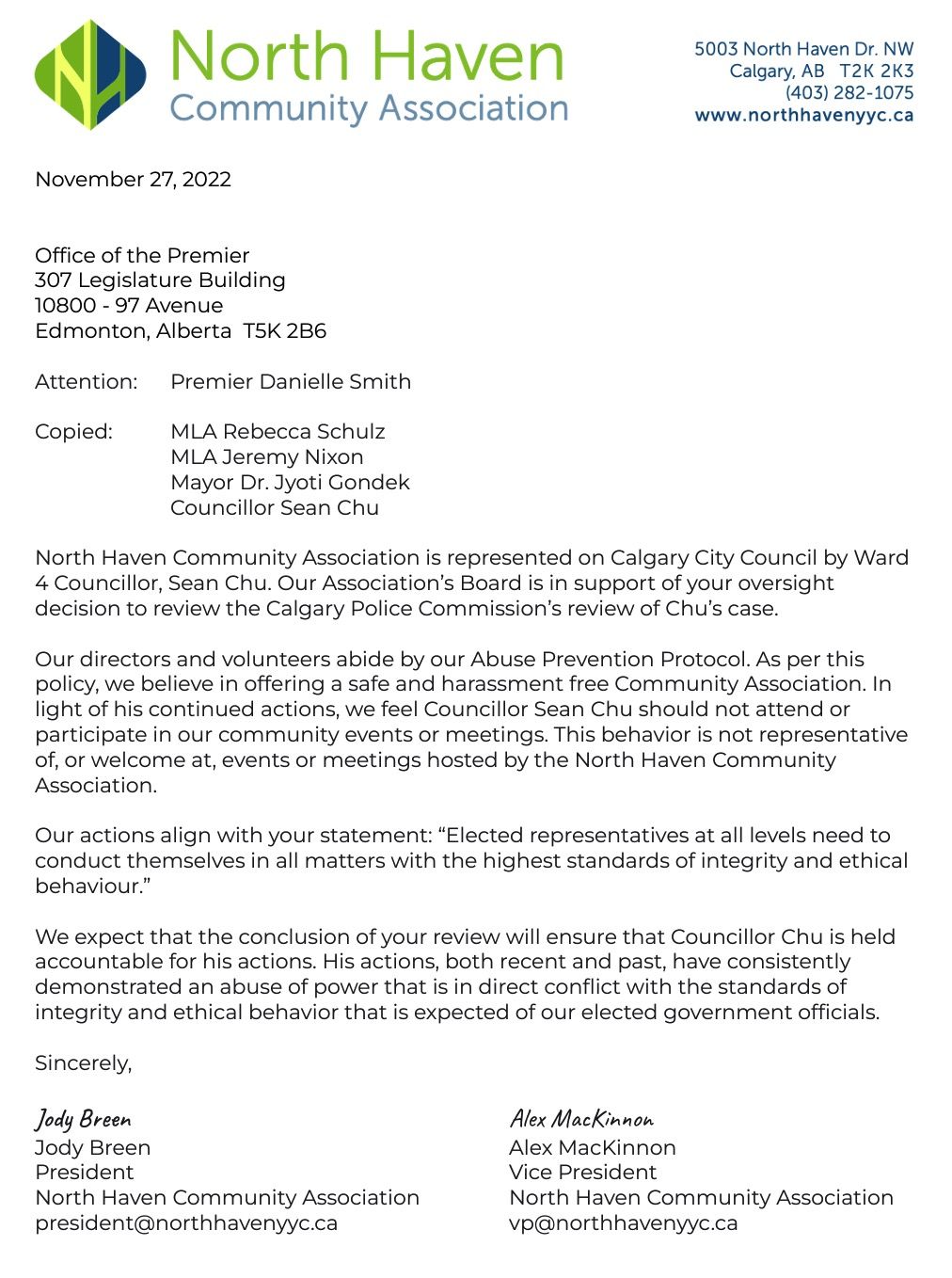 — With files from Brodie Thomas.
BKaufmann@postmedia.com
Twitter: @BillKaufmannjrn