Albertans pay the highest car insurance rates in Canada, according to a recent Ernst & Young report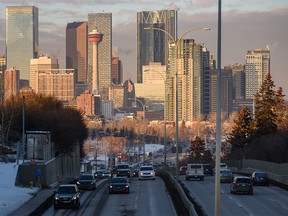 Article content
Albertans pay the highest car insurance rates in Canada, according to a recent Ernst & Young report.
Article content
The report was commissioned by the Insurance Corporation of British Columbia (ICBC), a Crown corporation for that province, and released on December 8.
Article content
It sampled car insurance rates with an effective policy date of September 1, 2022 across nine counties for 27 customer profiles, with different driver demographics, numbers of drivers, vehicles and accident history. For all but one of these profiles, Alberta's insurance costs were the highest.
For example, the report found that a 30-year-old married man driving a 2019 Ford F-350 with one accident in March 2021 would pay a record $4,791 annually in Alberta. This is the highest in Canada, next to Nova Scotia ($3,735) and Ontario ($3,568), and well above BC ($2,065) and Saskatchewan ($1,417).
Article content
The opposition NDP rejected these figures, charging that Albertans are paying more than those in other provinces for the same level of insurance coverage as affordability remains a key issue.
NDP finance critic Shannon Phillips blamed the UCP government for the rates, citing their 2019 move to scrap a rate increase cap on auto insurers imposed by the previous NDP government.
"This is highway robbery, but rather than addressing it, the UCP allows big insurance companies to charge as much as they want," Phillips said in a news release. She said an NDP government would freeze insurance rates.
UCP defends policy
The UCP did not address the Ernst & Young report when contacted for comment on Monday.
Finance Minister Travis Toews said in a statement that the NDP's rate cap has led to increased premiums, and said his government's actions have led to more stable auto insurance rates, citing legislation introduced in 2020.
Article content
"As a result of our actions with Bill 41, Alberta drivers have seen improvements such as stabilized rates, increased insurance options and flexibility," Toews said. "Albertans injured in traffic accidents can now access more health professionals, such as dentists and psychologists, through their insurance claim. Amounts for bereavement counselling, income replacement and funeral benefits are now adjusted for inflation."
NDP calls for one-year freeze on car insurance rates in Alberta

Auto insurers brought in $1.3 billion more than they paid out in 2020: Superintendent's report

No liability insurance increases costs for commercial fleet owners
An insurance industry spokesman dismissed the Ernst & Young report on the grounds that it was commissioned by the ICBC and provided data favorable to that provincial Crown corporation.
Article content
He questioned the methodology of the report, which did not adjust for differences in discounts, products or benefit rates across provinces, and which removed the highest and lowest quotes received in samples.
"That's not how anybody shops, and that's not how any consumer makes a decision," said Aaron Sutherland, vice-president of the Insurance Bureau of Canada.
"It is very misleading to be candid . . . It's not something we should take to inform how we do in Alberta as it relates to auto insurance."
Alberta auto insurance company margins rise
The ICBC is expected to lose $298 million in the 2022-2023 fiscal year, according to a quarterly financial report from the BC government last month. On Monday, ICBC applied for a two-year rate freeze on basic car insurance.
Article content
An annual report from Alberta's Superintendent of Insurance outlines the financial condition of the auto insurance industry.
The 2021 report found that Alberta's auto insurance companies had a claims ratio — the amount they paid out in claims compared to what they collected in premiums — was 60 per cent in 2021, a significant drop from 77 per cent the year before , and 79 percent in 2019. This means companies paid out a lower share of the premiums they collected than in previous years.
The superintendent's report says insurers collected $6.1 billion in premiums and paid out $3.7 billion in claims in 2021, a margin of $2.4 billion — up from the $1.3 billion margin in 2020.
The report cautioned that this data cannot be used as an indicator of insurer profitability, however, because it does not take into account measures such as administration and operating expenses.
Sutherland said insurers in Alberta cannot by law exceed a seven per cent profit, and argued it was inaccurate to view rates in the province as excessive.
"The idea that there's some kind of windfall is, I think, a misinterpretation," he said.
jherring@postmedia.com
Twitter: @jasonfherring