The first $5 million will be distributed to food banks in the coming weeks, while the second $5 million will be allocated for use next year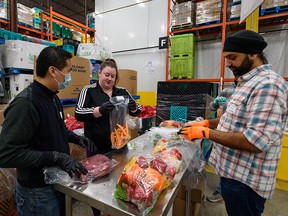 Article content
The Alberta government is committing $20 million over two years to support food banks and civic organizations across the province as people struggle with high grocery prices.
Article content
Seniors, Community and Social Services Minister Jeremy Nixon announced Wednesday that the government will provide $10 million over two years to food banks across the province, plus an additional $10 million over two years in matching funds for Alberta food banks, charities and civic organizations.
Article content
"No one has to worry about how they are going to feed their children and family. No one should have to worry about hunger in a community as prosperous as Alberta," Nixon said during a news conference at the Calgary Food Bank.
"This funding will enable food banks across the province to have stronger outreach and better meet the needs of the communities they serve."
The first $5 million will be distributed to food banks in the coming weeks, while the second $5 million will be allocated for use next year. Nixon said that means food banks across the province need to access the funding in time for an expected busy holiday season.
Article content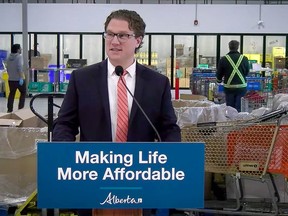 Michael Pasma, president of the Calgary Food Bank, said the local organization distributed food to more than 1,100 people on Tuesday alone.
"This is a sobering fact," says Pasma. "However, the unprecedented number of people accessing food banks in our province indicates that the problem of food insecurity has not been solved."
He said that it is essential to address the root causes of hunger.
Smith promises $2.4 billion in inflation relief in TV address to province

'Money doesn't go that far': Food bank campaigns become more urgent as inflation rises

'Our shelves are empty': Veterans food bank struggles to keep up with demand
Alberta's use of food banks is the highest in the country, according to the government. Food Banks Alberta has 110 member food banks across the province.
Article content
Food Banks Alberta CEO Arianna Scott said the additional funding is critical for food banks to meet current demand, but added that the organization will work with the province to address long-term, sustainable solutions to food bank use to reduce in Alberta.
"Food insecurity in Alberta affects 20 per cent of our overall population. And we're heading into the holiday season when we know financial pressures, utilities and other costs will only continue to rise, so this funding comes at an important time," she said.
She said that many member food banks have seen exponential increases in new customers each month this year.
Affordability and Utilities Minister Matt Jones said the use of food banks had more than doubled since before the pandemic.
Article content
"People struggle to volunteer or donate food to food banks because they face their own challenges in meeting their own tables and putting food on their own tables," Jones said.
He said the funding announced Wednesday will make a difference to those who rely on their local food bank.
"We will continue to ensure that our most vulnerable are supported," Jones said.
During a news conference Tuesday, Calgary Chamber of Voluntary Organizations (CCVO) called for an urgent, one-time cash injection from the provincial government to help voluntary organizations survive the current economic climate.
In a statement on Wednesday, CCVO welcomed the government's announcement, calling it a step in the right direction.
"We recognize food banks are just a handful of 30,000 not-for-profit organizations in Alberta and just one important way our sector provides food to those in need," CCVO said. "Alberta's not-for-profit sector is in crisis."
sbabych@postmedia.com