Auditor General Doug Wylie said the SMERG program put only 1,055 of 101,762 approved applicants through a post-payment verification process.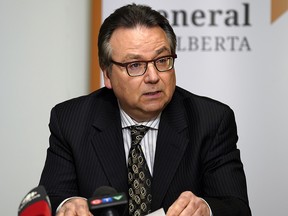 Article content
Alberta's Auditor General's Office is unable to determine value for money spent on pandemic-related programs due to a lack of oversight by the province.
Article content
In an interview with Postmedia on Friday, Auditor General Doug Wylie highlighted the Small and Medium Enterprise Relaunch Grant program, which put only 1,055 of 101,762 approved applicants through a post-payment verification process.
Article content
"When we talk about reporting back, it's not a clumsy task. This is where this value proposition is assessed," he said. "How well does management work? How well is the system working to achieve the desired results?"
SMERG paid out $657.6 million. In its post-payment verification oversight, the province separated applicants into low-risk and high-risk categories. It then focused its oversight on the high-risk applicants, who represented 5,462 applications, accounting for $48 million.
Article content
Of those put through the verification process, 546 (52 percent) failed, resulting in an overpayment of more than $5 million. So far, the county has been able to recover $562,000.
None of the 96,300 low-risk applicants, accounting for more than $609 million, were put through the verification process.
Assistant Auditor General Rob Driesen said there are two main criteria for an organization to qualify for SMERG funding: If they are required to close their doors or limit operations due to the public health orders, and if their income has dropped at least 30 percent. Due to the accelerated nature of the rollout, many applicants were forced to submit projections, some of which did not match reality.
"That is why this process is very important to follow up and to make sure that there is support for those allegations that were made at the beginning," he said.
Article content
The auditor's office recommended that the province complete the verification process.
Jobs, Economy and Northern Development Minister Brian Jean said in an emailed statement that SMERG has provided much-needed financial assistance to nearly 50,000 businesses and 345,000 Albertans affected by public health orders.
"We have every reason to believe that this program has generally had very high compliance and that it would be a poor use of taxpayer dollars to halt the work of the department to investigate more than 50,000 applications on ' a program that has achieved its important goal," he said. his statement.
He did not respond to questions about timelines for completing the verification of applicants or about the government's ability to recover funds from organizations that do not meet eligibility standards.
Article content
The Canadian Federation of Independent Business said it was wary of the province's efforts to recover funds. Annie Dormuth, the CFIB's Alberta director, said the programs have provided critical financial assistance to these organizations over the past few years, and many are still in dire straits heading into another economic slowdown.
"Our recommendation to the government is that this was much-needed relief for businesses at a very, very difficult time," she said. " And if the relief was provided by the government in good faith, and if there was a government error. . . then they should not revoke any of that grant funding."
Issues were also common with the delivery of the $108-million COVID-19 emergency isolation support program, in which the Alberta Labor and Immigration Department tried to verify the eligibility of only 150 of 93,887 benefit recipients. Only 41 individuals responded, most with incomplete information.
Article content
Wylie noted that other departments, such as Education, have managed proper oversight of pandemic funding.
There have also been problems with the Alberta Treasury Board and the Department of Finance's $2-billion COVID-19 Capital Stimulus initiative to quickly create jobs and economic growth during the pandemic.
The audit found that the program spent $789 million of the projected $927 million on capital maintenance and renewal projects in the 2020-21 and 2021-22 fiscal years, leaving about $78 million for the next two years.
However, for its 11 strategic capital projects, only $144 million of the predicted $1.12 billion in funding was spent on shovel-ready projects in those two years of health orders. Part of the delay was due to supply chain issues, but it calls into question the province's definition of dig-ready or construction-ready when several of the projects are still in the design phase — missing the goal of stimulating the economy during the pandemic.
Article content
"People think the projects are going to be delivered faster than they usually are," Assistant Auditor General Brad Ireland said. "It's probably just the reality of some of the projects they've chosen in terms of where they've been, and in terms of delivering large capital projects it just takes time."
Additionally, while the program aimed to generate 7,500 jobs between the two project strategies, there was no mechanism to record how many jobs were actually created.
Finance Minister Travis Toews noted in an emailed statement that Alberta's unemployment rate fell from a peak of 15.3 per cent in May 2020 to 6.5 per cent in March 2022 when the program expired, and now to 5.8 percent.
"The results of the Capital Stimulus speak for themselves," Toews said in the statement. "Today we have fully restored all the jobs lost since the pandemic."
But the auditor's office said it is not enough to point to the change in the unemployment rate, since there is no correlation between the actual number of jobs linked to this stimulus package. As a result, the auditor is unable to determine the actual effectiveness of the program.
The auditor will continue to monitor the province's oversight of these programs in future reports.
jaldrich@postmedia.com
Twitter: @JoshAldrich03