A prolonged increase in pediatric patients has led to rising wait times at Alberta's children's hospitals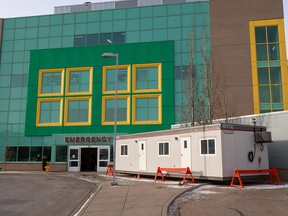 Article content
As Alberta Health Services prepares to open a heated trailer outside Alberta Children's Hospital as an overflow waiting area for its strained emergency department, the health authority says it is also considering redeploying staff to the Calgary hospital.
Article content
A prolonged increase in pediatric patients has led to rising wait times at Alberta's children's hospitals as several respiratory viruses circulate widely among youth.
Article content
This led AHS to begin preliminary discussions with unions representing health professionals about the possible deployment of emergency supplies to redeploy staff to the Alberta Children's Hospital in Calgary. These provisions were last used amid hospital pressures during the COVID-19 pandemic.
"Staff and doctors have been incredible over the past many months and years filling shifts and working extra hours to deliver care. We are working closely with our union partners to help redeploy staff if and when necessary to meet the care needs of this vulnerable population," the health authority said in a statement on Monday.
Article content
"These measures are only being taken as a last but necessary step to ensure we can continue to provide quality care to our patients."
A rapid start to this year's flu season with a particularly virulent strain is contributing to the increase in children requiring emergency department care and hospital stays, as well as the continued spread of both COVID-19 and respiratory syncytial virus (RSV) infections. Flu cases are rising sharply in Alberta, with 12 deaths recorded this season through Nov. 19, including two children.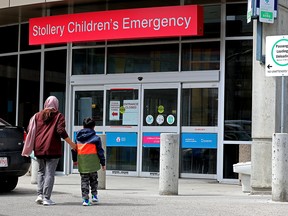 At Alberta Children's Hospital, this translates to a 20 to 30 per cent increase in daily emergency department visits. Both that site and Edmonton's Stollery Children's Hospital were at or above 100 percent capacity Friday, and their pediatric intensive care units are near 100 percent of normal capacity. AHS said that at peak times they can accommodate patients over 100 percent capacity.
Article content
As of Monday afternoon, both cities' children's hospitals had emergency wait times of about three-and-a-half hours. Wait times at the Alberta Children's Hospital exceeded 12 hours at points this month.
On Saturday, AHS brought a heated trailer outside the Calgary hospital's emergency department, which is meant to serve as an overflow waiting area to reduce pressure during rush hours. Officials said it will not be used as a primary treatment area. It is expected to be operational in early December.
How a bad RSV season turned into a crisis at Canada's children's hospitals

'Nothing is being done': Parents struggle with sick children because the province bans mask mandates

Parents file formal complaint against CBE for poor ventilation as respiratory illnesses, absenteeism rise
The trailer will be monitored in the same way as the emergency waiting area inside the hospital, AHS said. They did not say how many patients the trailer could accommodate.
Article content
"No matter where a patient is seen on the hospital site, they will always receive the appropriate treatment," AHS said. "All patients are triaged upon arrival at the emergency department and are prioritized according to the urgency of their condition or injury. Any critically ill or injured child is seen immediately."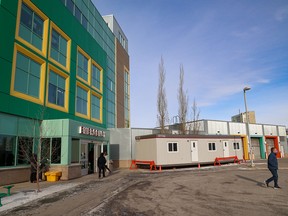 Opposition NDP health critic David Shepherd accused the UCP government of failing to reduce pressure on the health system.
"(They) haven't taken substantive steps to actually address the problem, whether it's the critical staffing shortage that has caused the wait to be so large, or taken any steps to mitigate this wave," Shepherd said.
The trailer now sitting outside the Alberta Children's Hospital serves as a stark symbol of the heavy pressure on health care professionals, argued Chris Gallaway with Friends of Medicare.
Article content
"The trailer is a very strong visual indicator of what is happening in our health care system. We are in a staffing crisis that the government is not addressing," said Gallaway, executive director of the health advocacy group.
"This is an urgent situation. We need urgent action."
AHS said several other measures are being implemented at Alberta Children's Hospital to ease the pressure of the increase in patients.
A "fast track area" at the hospital has been set up to treat emergency patients with less serious conditions. There are also plans to open a six-bed, 24-hour observation unit on the hospital's third floor, open discharge areas in the inpatient unit and add capacity to the pediatric follow-up clinic, measures that AHS says will take effect after staffing plans . dealt with. Three additional pediatric inpatient beds are also planned to open at the Peter Lougheed Center.
Operations at Alberta Children's Hospital and the Stollery continued, with no reductions planned.
jherring@postmedia.com
Twitter: @jasonfherring