Dr. John Cowell replaces the board as the official administrator of AHS, coming out of retirement to take up the role he previously held in 2014.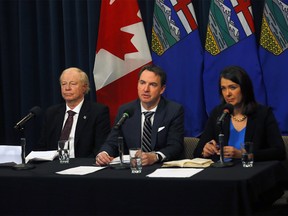 Article content
The board of Alberta Health Services has been temporarily replaced with a full-time administrator as Health Minister Jason Copping and Premier Danielle Smith work to implement a plan to reform the provincial health care system.
Article content
Dr. John Cowell replaces the board as the official administrator of AHS, coming out of retirement to take up the role he previously held in 2014. Copping made the announcement on Thursday, saying a full-time administrator could implement the government's plan to reform the health care system faster than a part-time board could.
Article content
"Responses can be immediate and dynamic, and I would like to emphasize that this is a temporary solution to help drive immediate changes and that the board will be restored in due course," Copping said.
Smith campaigned to replace the board while running to become leader of the UCP government.
The change came as Copping announced a plan to improve ambulance wait times, reduce emergency room waits, reduce surgical wait times and develop long-term reforms.
Article content
'Don't throw them overboard': Former Alberta health chief warns premier on AHS overhaul

Premier Smith signals rapid changes to the management of Alberta's health system

Alberta Children's Hospital, hit by rising respiratory illnesses, wants to expand ER capacity
Cowell will be tasked with fast-tracking ambulance transfers to health care facilities, using multiple transportation methods for non-emergency transfers, allowing dispatch to route calls to HealthLink and allow paramedics to determine whether a patient needs to go to the emergency room go or not improve ambulance responses to 911 calls.
In terms of reducing wait times in emergency rooms, the province plans to bring in additional health care workers to improve patient care and management, and transfer a greater number of patients from hospital beds to other facilities when appropriate.
Article content
"We needed better access to healthcare long before the pandemic and we actually campaigned on it in 2019. This is our promise to Albertans and we stand by it and we are making progress. But the pandemic has made it so much harder to deliver on our promise and we need to do more," said Copping.
Copping said the province will increase the number of surgeries performed at underutilized hospitals and chartered facilities. He said they also plan to create long-term reforms by allowing local health care workers to make decisions and attract more workers to Alberta.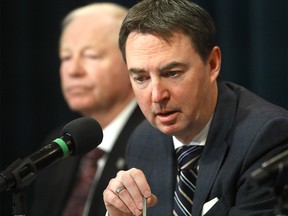 Cowell previously held the role of administrator in 2014 and was previously head of the Health Quality Council, where he was involved in several major investigations into the system. He said he recently got a first-hand look at problems in the system when he spent eight days in the hospital.
Article content
He said issues in the system were identified years ago and that there are a host of reasons why they have not been addressed, but that he hopes to make progress now.
"I really hope that I will be able to make a contribution to making the health care system stronger and better," Cowell said. "I hit the ground hard."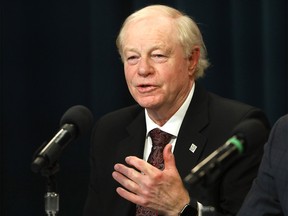 Smith said there are a number of measures the province will use to determine if the plan is working. However, she did not provide details on what criteria must be met to call the plan a success, nor did she provide a concrete timeline on when improvements can be expected.
"We're going to measure and find our current statuses and it will be better than it is today, and I just want to make sure I'm realistic about how fast we can move," Smith said.
Article content
Cowell said progress would be measurable, but said there were external factors, including COVID-19, that could cause challenges.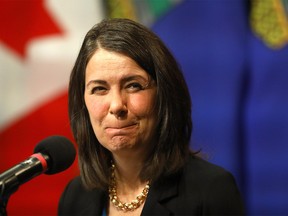 NDP Leader Rachel Notley said the plan would do nothing to address calls made by frontline health care workers and would exacerbate issues plaguing the system.
"Danielle Smith has absolutely no mandate to create the chaos, cost and conflict that today's announcement will generate," Notley said. "The dismissal of the AHS board today is nothing more than bad political theater, or as Danielle Smith herself said when the (Alison) Redford government did the exact same thing: it's window dressing."
dshort@postmedia.com