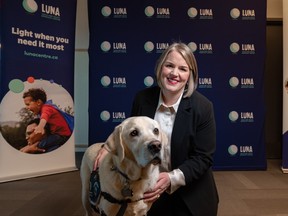 Article content
The team doctor for the US women's national gymnastics team, sentenced to 60 years in prison for sexually abusing several girls and women; the frontman of a popular Canadian pop group, convicted of sexually assaulting a young female fan; and, just last month, a Canadian parliamentary committee hearing testimony from scores of young athletes who spoke out about being physically and sexually abused by their coaches over a number of decades.
Article content
Over the past few years, there has been a reckoning of sorts when it comes to the widespread problem of sexual abuse and violence, says Danielle Aubry. "People are talking about it more, and more feel safe to come forward," she says. "We have come a long way – but there is still a big deficit to be able to deal with it properly in our society."
Article content
For nearly three decades, Aubry, the executive director and founder of Calgary Communities Against Sexual Abuse, has led the charge to better educate the community about the complexities of the issue, with a sharp focus on prevention. A wide range of programmes, from in-school presentations to workshops and educator training, tackle the causes of sexual abuse and violence, why it occurs and its consequences, along with working to help participants with how to respond to those who experience abuse. public.
Article content
"We see sexual violence as a root cause of many issues, including addiction, poverty, homelessness," says Aubry, who notes that 43 percent of Alberta residents report experiencing some form of sexual violence in their lifetime. with women twice as likely as men to be victims and more than 300,000 experiencing it as children.
"We want to empower people, not scare them, when we talk about sexual violence," she adds. "A child who has been sexually abused and does not receive help has a much greater risk of being abused as an adult."
Along with prevention, her organization has long provided support services to those affected by sexual abuse and violence, with everything from a sexual assault response team and trauma counseling, to guiding victims through the court system. "It's been a challenging last few years as we've dealt with increased levels of trauma," she says. "But we've also had a lot of success, and we're seeing more people come through the trauma process and become the people they're meant to be."
Article content
Calgary Communities Against Sexual Abuse is one of several local social agencies featured in the 2022 Christmas Fund (calgaryherald.com/christmasfund). Every weekend during the month of December leading up to Christmas Day, Postmedia will highlight a variety of social issues in our city and show how through the generosity of our readers, we can all make a difference to help our fellow Calgarians, including some of the city's most vulnerable.
Like Aubry, Linda McLean and her team strive to understand the root causes of the violence experienced by her clients, who come to Heart Home Network/Brenda Strafford Foundation seeking safety at their 85-unit shelter and transitional housing. "Unfortunately, the demand has only increased, especially as a result of the pandemic," says McLean, Heart Home's executive director. "At the moment we have the longest waiting list since 2019."
Article content
McLean's observations mirror the hard, cold statistics. A recent study from the University of Calgary found that the incidence of domestic violence has increased worldwide during the COVID-19 pandemic. Some of that, the report says, is likely due to the mental health problems, work effects and isolation it brought. At the end of 2022, while many have returned to a semblance of normal lives, the pandemic is still with us, now along with high inflation and low rental vacancy. With domestic violence remaining high and shelters at capacity, some have referred to it as the "shadow pandemic".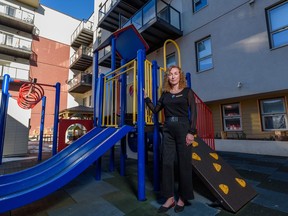 Still, McLean remains optimistic the women and children who come to them every year for temporary housing and support can break the cycle of abuse; along with the organization's other services, she is especially excited about a new program offered by the organization called Brighter Futures, which prepares her clients for life outside the shelter. "If we can put them on the path to a new trajectory," she says, "it increases the possibility that they won't become vulnerable again."
Article content
By the time children and their families come to Luna Child Advocacy Center, something terrible has already happened. A nationwide leader in the field and one of eight child advocacy centers in the province, it is a one-stop shop where all the players dealing with physical and sexual child abuse – trauma counsellors, doctors and nurses, police and children's services – work together. as an integrated team under one roof.
"We only focus on the most complex and serious cases of child abuse," says Karen Orser, CEO of Luna, which used to be known to Calgarians by its former name, The Sheldon Kennedy Advocacy Centre. It is named after Kennedy, who was sexually abused by his former junior hockey coach Graham James. He retired in 2018 to take care of his own health.
Article content
In a society where one in three Canadians experience some form of abuse before the age of 15, the 1,200 to 1,500 case files that the experts at Luna deal with each year are only the tip of the iceberg. Luna has helped more than 13,000 children, youth and families since its inception in 2013, leading many to write notes such as: "When we first met you, my child, who is normally full of life was, had no sunshine in her eyes. Now I see her spark of life fully lit again, and she is ready for a bright and happy future."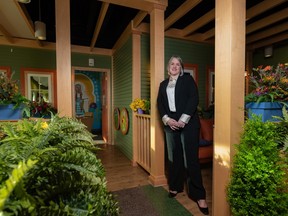 Along with maximizing resources, Orser says, the integrated approach makes the difficult road for children and families a little easier. "It's hard to navigate the system, the kids and families are traumatized," she says, noting that their clients also have the convenience of specially trained support dogs, along with an inviting facility made for young people (think clearly colors, play areas). , Axel and Webster.
Article content
"We are here to support children, youth and their families through all steps of the healing process," she says proudly of a highly skilled team of compassionate professionals dedicated to not only achieving justice, but wellbeing.
"This approach provides better outcomes for everyone," adds Orser, "and despite the challenges, we've seen some great successes."
To help the Calgary Herald/Calgary Sun Christmas Fund support 75 plus charities in our city, please click here, select the charity of your choice and then make your donation online. Thanks in advance for helping us to help a lot!