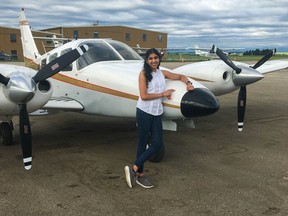 Article content
After Godly Mabel's parents moved their family from India to Calgary to support the teenager's dream of becoming a pilot, Mabel became a licensed pilot and flight instructor at 19.
Article content
Mabel was inspired to become a pilot after a trip to the Maldives with her mother several years ago. When her family realized the cost of pursuing a career in aviation in Kerala, India, they considered moving to Canada to become permanent residents so she could pursue flight training there.
Article content
"We came to Canada in December 2017, during that worst snowfall and -25 degrees. We really didn't expect so much snow," said Mabel. "My parents had decent jobs and they earned well. But because they couldn't afford my education in India, we moved to Canada."
She said her parents had a difficult time transferring their education and experience to their careers in Canada, but made it work so Mabel could begin flight training.
Article content
While attending school at Bishop McNally High School, she began private pilot license lessons at Springbank Air Training College and commercial pilot license training with a multi-IFR rating at the Calgary Flying Club. With school online due to the pandemic and many major high school exams cancelled, Mabel said she has more time to pursue flight training.
With the minimum age requirement to become an airline captain with Transport Canada being 21, the 19-year-old knew she had to find another way to make money and get more flying hours until then.
"I did my flight instructor rating in High River," she said, adding that she took the training at Kanata Aviation Training with her instructor, Gigi Shamba.
Shamba said Mabel is the youngest person he has trained to become a flight instructor.
Article content
Learning to teach others to fly is 'intense training…she never gave up'
He noted her drive: the average training time for a flight instructor is three to five months, but Shamba created an accelerated course that took Mabel 60 days.
"It's intensive training. "It's not just knowing how to fly, but understanding the subject enough to explain it, to simplify it, so she can teach a non-flyer," he said. "She never got discouraged."
Shamba said anyone interested in becoming a pilot can find a flight school at a nearby airport and go up for a discovery flight to see if they enjoy it.
"If you're passionate about it, it can be a little scary and maybe a little overwhelming, but just stick with it. Aviation is something we do because we are passionate about it," said Shamba.
Article content
Mabel said she hopes her story motivates others to pursue their dreams, even if there are challenges.
"We are still in the process of establishing ourselves here, but still we were able to get the funds for my education. It still cost about $175,000 for my 300 hours of flying, the written exams, the books and everything," she said.
Mabel's father, Aby Rabb, said every child has a dream and many can't or don't achieve it, but he said the family wanted to make sure Mabel could achieve her dream.
"When I was a child, I had a dream, but I didn't receive much support from my parents, so I couldn't grow in my dream," he said. "We are happy that our immigration to Canada will support her."
In a statement to Postmedia, Transport Canada said the agency could not release details about whether Mabel is the youngest person to become a licensed flight instructor in the country, citing privacy concerns.
Transport Canada said the training process includes set requirements for age, medical fitness, experience, skills and knowledge listed in the Canadian Aviation Regulations to successfully become an airplane flight instructor in Canada.
sbabych@postmedia.com