Article content
A group of three councilors say it's time to look at closing some transit stations after a fight involving a flare gun at the Marlborough CTrain station last week.
Article content
Police have arrested a 37-year-old man in connection with the fight, but they are still looking for three other suspects.
Shovel. Andre Chabot said he, along with councilors Jennifer Wyness and Sonya Sharp, want Calgary Transit to look into piloting locked stations that would limit access to those who have bought a ticket, at least in known trouble spots.
"I believe if we had a closed system in some of these stations that could actually accommodate that, where you have limited access points, we could eliminate this kind of social behavior that occurs inside our transit stations," Chabot said.
He said a closed system, along with increased enforcement and monitoring, would help reduce people loitering in the stations.
Article content
The councilor said he would raise the question during budget deliberations. Councilors had the chance to ask service and general managers budget questions on Thursday.
Chabot said the city is trying to get more people using transit after a slowdown during the pandemic, and safety is an important part of achieving that goal.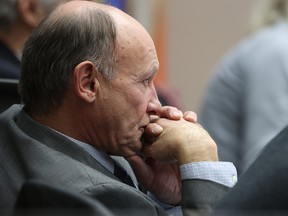 "If people don't feel safe, they're not going to get into the system. We have to fix it," Chabot said.
Shovel. Courtney Walcott was skeptical about the need to close stations. He said the council should instead address the root causes.
"Why are those train stations full of people?" asked Walcott. "We often worry about policing our way out of it and forcing our way out of it. But the reality is that these people are there because those systems have also failed."