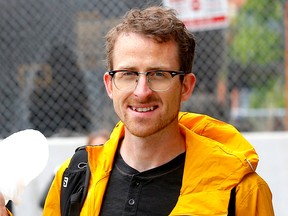 Article content
Advocates for Calgary's most vulnerable populations are applauding the city's four-year budget plan, which was approved by Calgary City Council on Friday afternoon.
Article content
The budget kept increases below inflation plus population growth, meaning homeowners will see a modest increase on their bills with a 4.4% increase on residential properties. However, this left little room for spending to address social issues.
Article content
In response, board members approved a plan to spend most of this year's projected budget surplus, about $65 million, on one-time contributions to community partners and initiatives they felt needed more attention.
"We've said that this is really an 'enough for everyone' budget, and we're very happy to see that," said Meaghon Reid, executive director of Vibrant Communities Calgary, which received an additional $2 million from the surplus . $2.1 million allocated in the budget.
Article content
Vibrant Communities Calgary is the steward of the city's Enough for All poverty reduction strategy, which aims to end poverty in the city. Reid said her group works in data collection as well as policy and advocacy work, in collaboration with frontline organizations.
She said money would go a long way in getting the best information for data-based policy decisions when dealing with poverty, mental health and addictions.
"It's going to give us the ability to really put more resources into community-based research to really understand what poverty in Calgary looks and feels like right now," Reid said.
She was pleased to see so many organizations and initiatives aimed at addressing poverty also receiving funding.
"So things like maintaining transit fees (at 2022 levels), mental health and addictions strategy funding, funding to the Office of Indigenous Relations," Reid said. "All these things support the Enough for All strategy and overall poverty reduction in the city."
Article content
Citizens call for climate action, better transportation at Calgary budget public hearings

Calgary is not planning any cuts to services for its four-year budget

Calgary police, under fire among groups seeking more funds in a four-year budget

Calgary City Council approves four-year budget with 4.4 per cent tax increase
Euan Thomson, with the harm reduction advocacy group Every+Every, said it was good to see $19 million in the budget for the mental health and addictions strategy. However, he is concerned that some of that money will be used to work with the Calgary Police Service to deal with the issues.
"I think it's the exact opposite of what we need to do right now," Thomson said.
His group advocated for safe supply to deal with the toxic opioids sold on the street – something the UCP government has repeatedly spoken out against, focusing instead on abstinence-based recovery.
Article content
During the budget public hearings, Thomson spoke to the council about how funding safe drug supply would be a more cost-effective way to deal with addictions, rather than spending money on enforcement.
Thomson said city police presented data showing 90 per cent of Calgary's property crime is committed by about 100 prolific offenders, who steal largely to feed their addictions.
"I think it really comes back to the idea of ​​just trying to get to the root causes of subsistence crime," he said. "Thus supporting people's basic needs so that they do not have to rely on subsistence crime."
Thomson added it was great to see an additional $10 million in funding for the Calgary Fire Department as they have become the front line response to opioid overdoses that occur daily in the city.
Article content
Shovel. Courtney Walcott said if the city wants to address the problems of mental health and addiction, it needs to work with both the province and the Calgary Police Service, because the latter is specifically responsible for dealing with addictions.
"So we have two choices," Walcott said. "One of them is that we can now wash our hands of it and just let the province take care of this issue, which I don't want to do. And then the other one is to ensure that … we do have some very strong partnerships with CPS."
Walcott said that aside from the $19 million for mental health and addictions, he's happy to see so much funding going toward fighting poverty and building a more just city.
"It's something I'm proud of and surprised at the same time," Walcott said.
"We always prepare for the worst, don't we? It wasn't it wasn't the worst. It was pretty damn good."
brthomas@postmedia.com
Twitter: @brodie_thomas