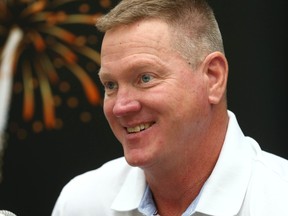 Article content
A Calgary business owner and father of two is Alberta's newest multi-millionaire after winning a record $70 million jackpot from a Lotto Max drawing.
Article content
Mitchel Dyck said he would regularly buy lottery tickets as he filled up his truck several times a week while running his horticulture business.
Article content
At the end of October he bought a Lotto Max ticket on a whim and three weeks later he paid in his ticket.
The $70 million figure was a bit of a surprise.
"It was very surreal. It took us a long time to even figure out how much it was," Dyck said after being presented with his ceremonial check on Tuesday. "You immediately start thinking about how you can help your family."
Dyck said when the cashier at his local convenience store scanned his ticket, he thought he had won $70,000. When the employee went to the store's back room to confirm the high amount, Dyck said he followed him and didn't let the ticket out of his sight. Eventually, Dyck realized his winnings were 10 times what he originally believed.
Article content
What followed were several "stressful" weeks. Dyck first put his winning ticket in a safe before confirming his win with Alberta Gaming, Liquor and Cannabis.
"We drove (to St. Albert), it was not exactly according to the speed limit," he said. "It's an enormous amount of money … I'm sure it will change the way we do business, but I don't want it to change us."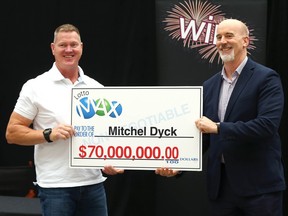 When asked what he was going to do with the money, Dyck said he had always wanted a fancy vehicle or a fancy house, but he had no fancy purchases in mind.
He said his family will be on holiday over the Christmas period and he will take more leave days than he used to, but added he wants to ensure his two children and family are taken care of and have what they need to get an education.
Article content
"That is still our goal, is to make sure that our children get an education. Go ahead and be honest citizens," Dyck said.
Alberta Gaming, Liquor and Cannabis vice president of gaming Dan Keene said Dyck's win is the largest Lotto Max jackpot in Alberta and tied a Canadian record.
"This is not just a victory for one individual. This is a win for all of Alberta," Keene said when introducing Dyck. "The proceeds of the lottery in the province go to the general revenue fund, which benefits programs and services we rely on every day."
dshort@postmedia.com
Winning $70M Lotto Max ticket sold in Calgary

Better late than never, Calgary man claims $50M Lotto Max prize from August

Calgarian and one-time refugee wins Alberta's biggest lottery prize