The Alberta Living Wage Network calculates a modest budget to determine the necessary hourly wage for a number of Alberta communities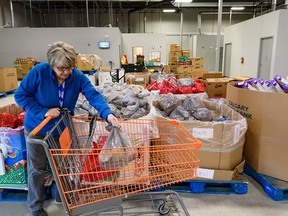 Article content
As many Calgary households grapple with the effects of inflation and grocery prices on their monthly budgets, the living wage for residents across Alberta has increased over the past year.
Article content
The Alberta Living Wage Network – a group of community organizations and municipalities – calculates a modest budget to determine the necessary hourly wage for a number of Alberta communities, which includes conservative estimates for basic expenses such as gas, electricity and food.
Article content
The living wage for Calgarians increased from $18.60 in 2021 to $22.40 this year.
"A living wage is not a luxury lifestyle. A living wage gets you to a place where you're not trading off your basic needs to survive," said Meaghon Reid, executive director of Vibrant Communities Calgary.
"It shows us what we all experience. Everything is getting more expensive and it's getting a lot harder to stretch a dollar for the average Calgarian.
Article content
While the living wage in the mountain town of Canmore has decreased since it was last updated, it remains the highest in the province at $32.75 — down from $37.40 the year before.
According to the town, a 2018 survey showed that basic household expenses in Canmore were on average 43 per cent more expensive than Alberta's baseline. Specifically, housing in Canmore was found to be 141 percent higher than Alberta's baseline.
Varcoe: Inflation 'hits harder' in Alberta, thanks to slow wage growth

Annual inflation rate unchanged in October: Statistics Canada

Inflation, worker shortages put increasing pressure on Calgary businesses: survey
Lisa Brown, Canmore's manager of community social development, said in a news release that the living wage data puts into context the affordability concerns of many Albertans.
Article content
"It's a tool and calculation that helps us understand what expenses affect the cost of living within our communities, as well as help us identify what programs increase affordability for our residents," Brown said.
Also in the Calgary area, Cochrane's living wage was calculated at $22.35, Drumheller was $21.20 and Rocky Mountain House was $21.85. In Lethbridge, the living wage this year is $20.30, it stands at $19.65 in Red Deer and is the cheapest in Medicine Hat at $17.50.
The Alberta Living Wage Network adjusts its calculations to reflect the lived reality of Albertans, based on the income needs of a two-parent family with two young children, a single-parent family with one child and a single individual living alone.
Article content
The network said the intent of releasing the living wage numbers is to highlight the reality of the cost of living in Alberta communities.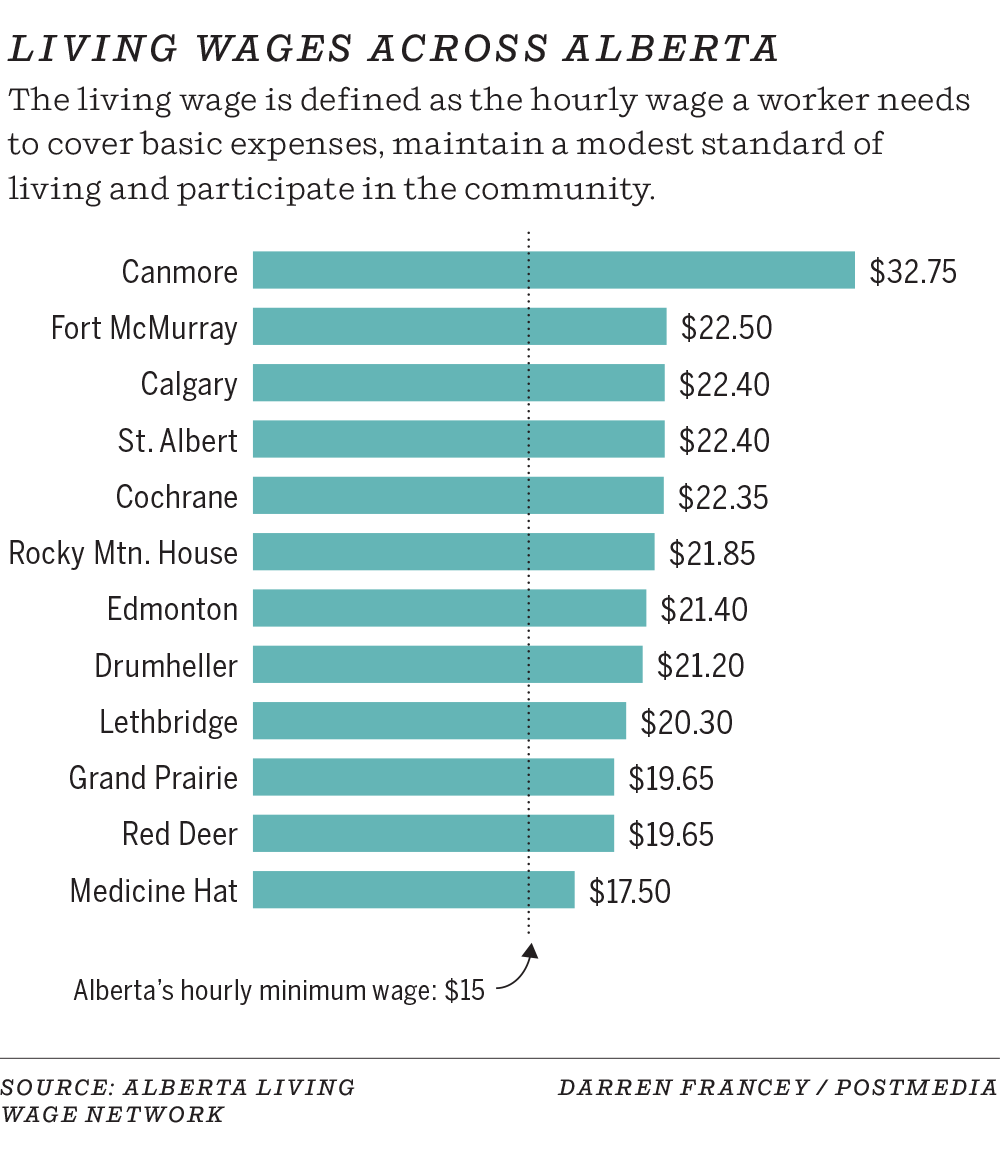 Reid said the updated data highlights the need for government intervention to make life affordable for Albertans. The minimum wage in Alberta stands at $15, which means many people earn well below the necessary income.
"We hear from people that there are a lot of trade-offs in terms of basic needs if you're not on that living wage. People said they had to skip meals to make rent," Reid said, adding that they've also heard of seniors rationing medications to reduce prescription costs.
She said it was also important for employers to realize their role in this, and said it was time for large corporations to pay employees a living wage.
Article content
"Small and medium-sized local businesses have really been carrying the living wage burden for too long. We need to talk about why grocery chains that have made record profits in recent years are not paying a living wage," Reid said.
Government policies that promote affordability, such as the child tax benefit, are helping to bring down the living wage, Reid said.
Alexander David, professor of finance at the University of Calgary's Haskayne School of Business, said lower-income households are struggling to make ends meet.
David said the increase in food prices, caused in part by supply chain issues and international conflict, is expected to be temporary but continues to affect consumers, and is likely to continue into 2023.
Article content
"It's concerning for people who earn minimum wage," he said.
Canada's annual inflation rate held steady at 6.9 per cent last month, according to Statistics Canada, after several months of decline since peaking at 8.1 per cent in June. Meanwhile, wages rose only 5.6 percent in October compared to a year ago.
Interest rates have been raised six times by the Bank of Canada since March in an effort to stem rising inflation. The next interest rate decision is set for December.
Despite the fact that inflation is still uncomfortably high, David said it was slightly positive that it did not rise in October.
"In an ideal world, the minimum wage should be indexed against inflation, but companies are also struggling since the pandemic. Some will argue that if you raise the minimum wage, many businesses will go under, which will worsen the economic situation," he said.
Article content
"The Bank of Canada is trying to raise interest rates to moderate demand with the hope that prices will eventually cool. . . It has never been easy to cool inflation from six or seven percent to two percent without causing a recession."
He said there was a glimmer of hope that some of the supply chain issues could ease, which would mean fewer disruptions and potentially lower prices, he added.
Anyone who needs immediate financial assistance can call 211, a 24/7 service that refers people to emergency support.
Reid encourages people to donate if they can and look for signs of distress among their neighbors and friends to offer help or connect them with services.
sbabych@postmedia.com