Wait times at the hospital have sometimes exceeded 12 hours as doctors deal with a wave of flu and COVID-19 cases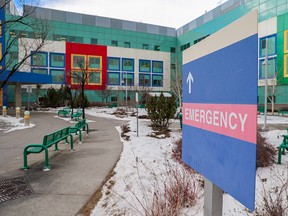 Article content
The Alberta Children's Hospital in Calgary is looking to expand its emergency room capacity as wait times rise amid rising numbers of respiratory illnesses among children and the increasing spread of this year's particularly virulent flu strain.
Article content
Over the weekend, wait times at the hospital sometimes exceeded 12 hours due to large volumes of patients seeking to see a pediatrician in the emergency department, according to officials. The pressure on the system is led by an influx of flu patients, but doctors are also dealing with increasing cases of COVID-19 and respiratory syncytial virus (RSV).
Article content
"We had a very challenging days," said Alberta Children's Hospital senior operations officer Margaret Fullerton added that Sunday was particularly difficult for the hospital's emergency room.
"You heard we're full – we're full. As the volumes of the emergency department increase, so does the need for an inpatient bed."
Fullerton said the hospital is working to reduce ER delays, but the extremely long wait times are mostly experienced by patients considered less urgent, noting that those in serious condition will see a practitioner "very soon and very quickly" see.
Article content
"Patients who can wait are unfortunately waiting longer," she said. "When you're worried about a very sick child, it's very stressful to wait in the emergency department – we really recognize that. We work very hard, our teams are absolutely dedicated to making sure we see our patients as timely as we can. depending on their illness."
The hospital wants to expand the number of ER beds and some short-stay spaces by utilizing other areas of the hospital. There is also a contingency plan in place to send certain teenage patients to adult hospitals if necessary, but Fullerton said the hospital is "not close to that yet."
School absences triple within weeks as UCP doubles down on zero masking

Braid: Hinshaw is out, Smith names mainstream AHS doc as CMOH
"While we're full, we're definitely still working on those plans where we open up more capacity at this site before we have any really big plans," she said.
Article content
While trying to boost beds, Fullerton also noted they continue to deal with staffing challenges. She said they are looking for part-time and casual workers to pick up additional shifts and permanent staff and doctors are putting in overtime.
"We're asking for all hands on deck," she said.
Dr. Karla Gustafson, AHS medical officer of health in the Calgary Zone, said there has been a "surge" in flu cases in recent weeks, with levels similar to the peak of previous pre-COVID flu seasons. According to Alberta government data, as of Nov. 5, there have been 891 flu cases in the province so far this year and 146 have been in hospital, 36 in intensive care.
"And of course, COVID-19 is still present and active," Gustafson said. "So much COVID and flu activity right now."
Article content
The dominant flu strain circulating this year is one that is "especially difficult for young children and seniors," Gustafson said. Combined with the flu and other respiratory viruses that have receded through the COVID-19 pandemic, Gustafson said it's not surprising that the respiratory illness season has hit hard this year, causing some more serious illnesses.
Gustavson said the best antidote to COVID and the flu for children is vaccination and wearing a mask is a measure that can help prevent the spread of respiratory illnesses.
"As for masking in public places, of course it's encouraged for people who do feel comfortable doing so," she said.
NDP calls for government action
On Tuesday, the Alberta NDP demanded action from the UCP and Premier Danielle Smith on the health care situation across the province, specifically for Alberta's Children's Hospital and Stollery Children's Hospital in Edmonton.
Article content
"Albertans deserve better for children fighting serious illnesses, better for their parents dealing with incredible anxiety as they watch our hospital emergency rooms buckle under intense pressure and as they come up empty in their search for life-saving medicine," said David Shepherd, the party 's health critic.
The NDP called on Smith to run daily public briefings on the province's efforts to secure emergency shipments of children's medicine and announce an emergency staffing plan for hospitals.
At an unrelated news conference on Monday, Prime Minister Smith said her government was focused on supporting pharmacies to get supplies of children's pain and fever medication, and addressing long hospital waits times. She also said she supports the individual choice of anyone who wants to wear a mask, but asserted that the province will not bring back a mask mandate in schools or elsewhere.
"We still have a few tough months to get through the respiratory virus season, but I'm going to do what I can to make sure they have the medication they need, and that if – heaven forbid – anyone goes to the hospital that they don't wait an inordinate amount of time to see their child," Smith said.
mrodriguez@postmedia.com
Twitter: @michaelrdrguez